By Rick Steves
So much to see, so little time. How to choose? To help you get started, I've listed my top picks for where to go in Austria (and a few great spots just over the border), my plan for your best two-week trip, and tips on when to go.
Depending on the length of your trip, and taking geographic proximity into account, these are following my recommended priorities:
3 days: Vienna
5 days: Salzburg
7 days, add: Hallstatt
10 days, add: Danube Valley, southern Bavaria/western Tirol
14 days, add: Innsbruck, Dolomites, and day-trip to Bratislava
16 days, add: More time in Vienna
Austria's Best Two-Week Trip (by Train)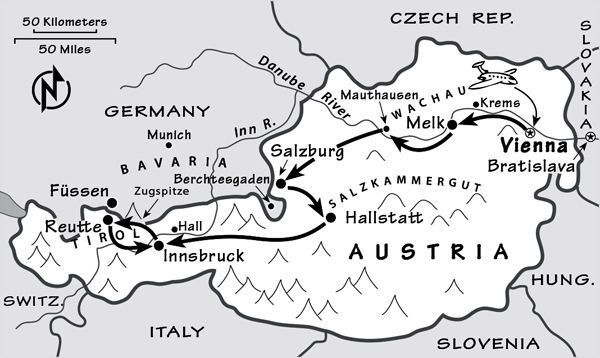 Day 1: Fly into Vienna (sleep in Vienna)
Day 2: Vienna (sleep in Vienna)
Day 3: Vienna (sleep in Vienna)
Day 4: Vienna (sleep in Vienna — or head to Melk in evening if biking or cruising Danube on Day 5)
Day 5: Danube Valley (Melk to Krems and back) (sleep in Melk)
Day 6: To Salzburg via Mauthausen (sleep in Salzburg)
Day 7: Salzburg (sleep in Salzburg)
Day 8: Salzburg (sleep in Salzburg)
Day 9: To Hallstatt (sleep in Hallstatt)
Day 10: Hallstatt and Salzkammergut Lake District (sleep in Hallstatt)
Day 11: To Innsbruck (sleep in Innsbruck)
Day 12: Innsbruck; to Bavaria* (sleep in Füssen or Reutte)
Day 13: Bavaria and castles* (sleep in Füssen or Reutte)
Day 14: Fly home from Munich* (or train back to Vienna)
*For days 12–14, it works just as well to skip Bavaria and turn south (rather than north) from Innsbruck to spend two days in Italy's Dolomite peaks (home base in Bolzano or Castelrotto, and fly out from Milan or Venice).
By Car
Pick up your car when you leave Vienna. After Melk (in the Danube Valley), drive to Hallstatt, with a stop at Mauthausen en route. After Hallstatt, head to Salzburg. From Salzburg, you can drive (via Berchtesgaden, if you're interested) through southern Bavaria en route to Füssen or Reutte. Then drive eastward through Tirol's Inn Valley via Innsbruck to the Dolomites just south, then return to Innsbruck to drop off your car.
With More Time
Depending on your interests, you could easily spend several more days in Vienna (for museums, the music scene, going to cafés and wine gardens, day-tripping to Bratislava) and a couple more days in Salzburg (for the music scene, nearby sights, day-tripping to Berchtesgaden). The countryside of southern Bavaria/western Tirol and the Italian Dolomites are great places to linger and explore (consider a few days of car rental).
When to Go
The "tourist season" runs roughly from May through September. Summer has its advantages: best weather, snow-free alpine trails, very long days (light until after 21:00), and the busiest schedule of tourist fun.
Travel during "shoulder season" (spring and fall) is easier and can be a bit less expensive. Shoulder-season travelers usually enjoy smaller crowds, decent weather, the full range of sights and tourist fun spots, and the ability to grab a room almost whenever and wherever they like — often at a flexible price. Also, in fall, fun harvest and wine festivals enliven many towns and villages, while forests and vineyards display beautiful fiery colors.
Winter travelers find concert seasons in full swing, with absolutely no crowds, but some accommodations and sights are either closed or run on a limited schedule. Confirm your sightseeing plans locally, especially when traveling off-season. The weather can be cold and dreary, and nightfall draws the shades on sightseeing well before dinnertime. But dustings of snow turn Austrian towns and landscapes into a wonderland, and December offers the chance to wander through traditional Christmas markets.