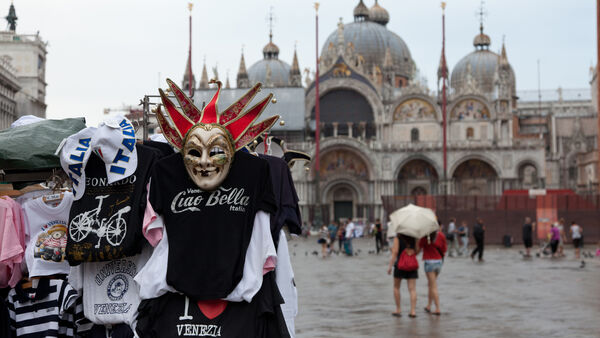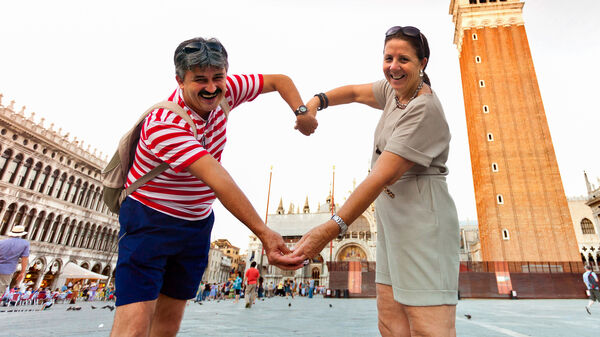 By Rick Steves and Gene Openshaw
Venice's best travel months (also its busiest and most expensive) are April, May, June, September, and October.
Summer in Venice is more temperate (high 70s and 80s) than in Italy's scorching inland cities. Most Venetian hotels come with air-conditioning — important in the summer — but it's usually available only from May (at the earliest) through September. Spring and fall can be cool, and many hotels — thanks to a national interest in not wasting energy — are not allowed to turn on their heat until winter.
Between November and March you can usually expect mild winter weather (with lows in the 30s and 40s), occasional flooding, shorter lines, lower prices, and fewer tourists (except during Carnevale, generally in February). While Carnevale comes with high hotel prices, it's a big party, with special concerts, lots of kids' events, fresh pastries, and costumed figures crowding through the city. March offers a good balance of low-season prices and reasonable weather.
Venice has two main weather patterns: Wind from the southeast (the Balkans) brings cold and dry weather, while the sirocco wind from the south (north Africa) brings warm and wet weather, pushing more water into the lagoon and causing flooding (acqua alta). This shouldn't greatly affect your sightseeing plans. Tabacchi (tobacco shops) and some souvenir shops sell boots to keep your feet dry. Elevated wooden walkways are sometimes set up in the busier, more flooded squares to keep you above the water. And it's worth a trip to St. Mark's Square to see waiters in fancy tuxes and rubber boots.
Off-Season Travel Tips
Off-season has none of the sweat and stress of the tourist season, but sights may have shorter hours, lunchtime breaks, and fewer activities. Here are several things to keep in mind if you visit Venice off-season, roughly November through March.
Most sights close early, often at 17:00.
The orchestras in St. Mark's Square may stop playing at 18:00 (and may not play at all in bad weather or during their annual vacations, usually in March).
Vaporetto #2 (the Grand Canal fast boat) terminates at the Rialto stop before 9:00 and after 20:00, which means no stops at San Marco and Accademia early in the morning and late in the evening (you can take the slow boat, vaporetto #1, instead).
Expect occasional flooding, particularly at St. Mark's Square and along Zattere (southern edge of Venice, opposite Giudecca Island).
Room prices can be about 25–50 percent lower.
---
Gene Openshaw is the co-author of the Rick Steves Venice guidebook.