By Rick Steves
So much to see, so little time. How to choose? To help you get started, I've listed my top picks for where to go in Italy, my plan for your best three-week trip, and tips on when to go. Of course, not everyone has jobs or lifestyles that allow a three-week trip, so make a plan, prioritizing according to your interests and tastes. If you're passionate about Renaissance art, Florence is a must. Want to get high? Head to the hill towns of central Italy.
Depending on the length of your trip, and taking geographic proximity into account, here are my recommended priorities:
4 days: Rome, Florence
6 days, add: Venice
8 days: slow down
10 days, add: Cinque Terre
12 days, add: Siena
14 days, add: Sorrento, Naples, Pompeii, Amalfi Coast
17 days, add: Milan, Lake Como, Varenna
21 days, add: Padua, Volterra, Orvieto, or slow down
Rick's Best Three-Week Trip to Italy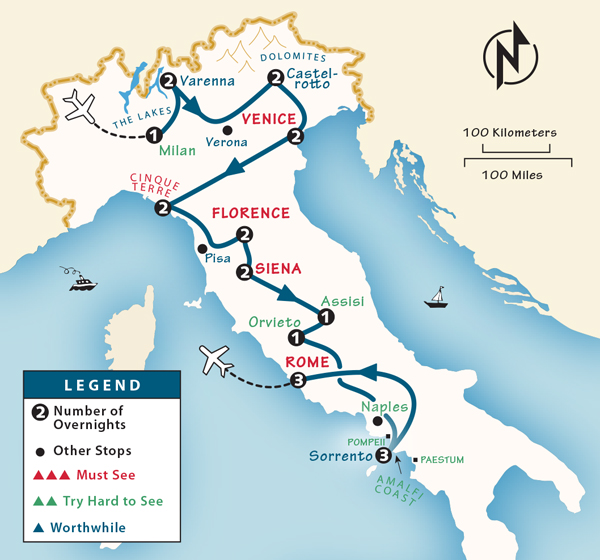 Day 1: Arrive in Milan (sleep in Milan)
Day 2: Milan to Lake Como (sleep in Varenna)
Day 3: Lake Como (sleep in Varenna)
Day 4: To the Dolomites via Verona (sleep in Bolzano or Castelrotto)
Day 5: Dolomites (sleep in Bolzano or Castelrotto)
Day 6: To Venice (sleep in Venice)
Day 7: Venice (sleep in Venice)
Day 8: To the Cinque Terre (sleep in Vernazza)
Day 9: Cinque Terre (sleep in Vernazza)
Day 10: To Florence via Pisa (sleep in Florence)
Day 11: Florence (sleep in Florence)
Day 12: Florence, late to Siena (sleep in Siena)
Day 13: Siena (sleep in Siena)
Day 14: To Assisi (sleep in Assisi)
Day 15: To Orvieto and Civita (sleep in Orvieto)
Day 16: To Sorrento via Naples (sleep in Sorrento)
Day 17: Capri (sleep in Sorrento)
Day 18: Amalfi Coast (sleep in Sorrento)
Day 19: Morning to Rome via Pompeii (sleep in Rome)
Day 20: Rome (sleep in Rome)
Day 21: Rome (sleep in Rome)
Day 22: Fly home
By Car
The big sights of Italy (Rome, Florence, Venice, Sorrento/Naples/Capri/Amalfi, and Cinque Terre) are inconvenient by car and easy by public transportation. Those wanting to drive in Italy will find a car most helpful for the hill towns of Tuscany and Umbria and for the Dolomites. I'd start by touring most of the country by train, then use a car to explore a region or two (even if it means backtracking a few extra hours by train or car).
With Limited Time
If you have less time, skip the Dolomites, since they're out of the way.
When to Go
Italy's best travel months (also its busiest and most expensive) are May, June, September, and October. These months combine the convenience of peak season with pleasant weather.
The most grueling thing about travel in Italy — particularly in the south — is the summer heat in July and August, when temperatures hit the high 80s and 90s. Most mid-range hotels come with air-conditioning — important in the summer — but it's usually available only from June through September.
Peak season (roughly May–Oct in the north and May–June and Sept–Oct in the south) offers the longest hours and the most exciting slate of activities — but terrible crowds. During peak times, many resort-area hotels maximize business by requiring that guests take half-pension, which means buying a meal per day (usually dinner) in their restaurants. August, the month when many Italians take their summer vacations, isn't as bad as many make it out to be, but big cities tend to be quiet (with discounted hotel prices), and beach and mountain resorts are jammed (with higher hotel prices). Note that Italians generally wear shorts only at beach resort towns. If you want to blend in, wear lightweight long (or Capri) pants in Italy, even in summer, except at the beach.
Between November and April, you can usually expect pleasant weather, and you'll miss most of the sweat and stress of the tourist season. Off-season, expect shorter hours, more lunchtime breaks, and fewer activities. However, spring and fall can be cool, and many hotels — thanks to a national interest in conserving energy — aren't allowed to turn on their heat until winter. In the winter, it often drops to the 40s in Milan and the 50s in Rome.