By Rick Steves and Cameron Hewitt
So much to see, so little time. How to choose? To help you get started, we've listed our top picks for where to go in Eastern Europe, our plan for your best three-week trip, and tips on when to go. (This advice assumes you're considering Poland, the Czech Republic, Hungary, and Slovenia — and stops in Vienna and Bratislava — in one trip; for advice on lands farther south, see our recommended itinerary for Croatia, Slovenia, Bosnia-Herzegovina & Montenegro).
Depending on the length of your trip, and taking geographic proximity into account, here are our recommended priorities:
3 days: Prague
5 days, add: Budapest
7 days, add: Český Krumlov, slow down
10 days, add: Kraków, Auschwitz
14 days, add: Ljubljana, Lake Bled
16 days, add: Vienna
18 days, add: Julian Alps, Bratislava
20 days, add: Eger, slow down
25 days, add: Gdańsk, Warsaw, Toruń (or save these for a Poland-focused trip)
Rick's Best Three-Week Eastern Europe Trip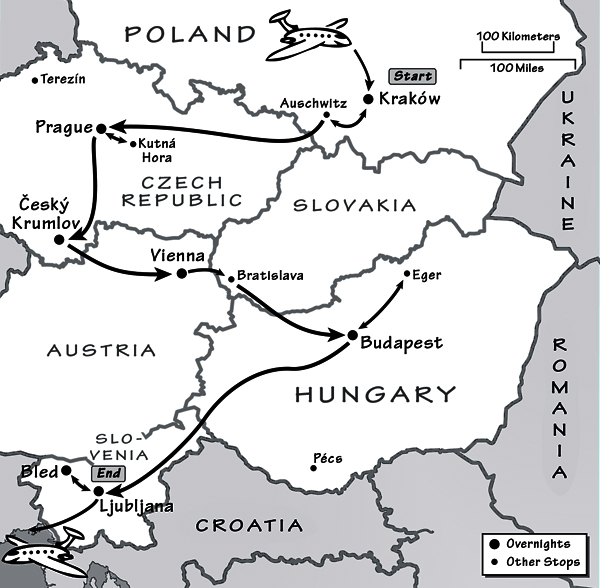 Day 1: Fly into Kraków (sleep in Kraków)
Day 2: Kraków (sleep in Kraków)
Day 3: Side-trip to Auschwitz (sleep in Kraków)
Day 4: Travel to Prague (cheap flight, long train ride, or private driver; sleep in Prague)
Day 5: Prague (sleep in Prague)
Day 6: Prague (sleep in Prague)
Day 7: Prague; side-trip to Kutná Hora (sleep in Prague)
Day 8: Train to Český Krumlov; tour Konopiště Castle en route (sleep in Český Krumlov)
Day 9: Český Krumlov (sleep in Český Krumlov)
Day 10: Shuttle bus to Vienna (sleep in Vienna)
Day 11: Vienna (sleep in Vienna)
Day 12: Vienna (sleep in Vienna)
Day 13: Train to Budapest; stop in Bratislava en route (sleep in Budapest)
Day 14: Budapest (sleep in Budapest)
Day 15: Budapest (sleep in Budapest)
Day 16: Budapest; side-trip to Eger (sleep in Budapest)
Day 17: Train to Ljubljana (direct, leaves Budapest at 8:30; sleep in Ljubljana)
Day 18: Ljubljana (sleep in Ljubljana)
Day 19: Rent a car to explore Lake Bled (sleep on Lake Bled)
Day 20: Lake Bled and Julian Alps (sleep on Lake Bled)
Day 21: Fly home from Ljubljana
This is an urban-focused itinerary — spending most nights in big cities (except for Český Krumlov and Lake Bled), and side-tripping to smaller towns. This itinerary assumes you're using public transportation (partly to spare you some very long drives, and partly to avoid costly international drop-off fees for rental cars). Get creative. From Kraków to Prague, you could take a nine-hour night train or a complicated daytime connection — or you could look for a cheap flight. Better yet, splurge on a private driver based in Kraków or Prague to take you there (5-hour drive), and fit in a stop at Auschwitz en route — figure about $400–500 for a carload. Train connections between Český Krumlov and Vienna require multiple changes, but various shuttle services do the trip affordably in under four hours.
Also, it's very smart to strategically rent a car for a few days in places where it's warranted — for example, to explore the countryside between Prague and Český Krumlov, or between Ljubljana and Lake Bled; as long as you're dropping off the car in the same country, there are usually no (or minimal) extra charges.
Two-Week Variation: If you're tight on time, skip Slovenia and cut out some of the side-trips (Kutná Hora, Eger).
When to Go
The "tourist season" runs roughly from May through September. Summer has its advantages: the best weather, very long days (light until after 21:00), and the busiest schedule of tourist fun.
In spring and fall — May, June, September, and early October — travelers enjoy fewer crowds and milder weather. This is probably the best time to travel here. Cities are great at this time of year, but some small towns get quieter and quieter the further off-season you get, and are downright deserted and disappointing in early May and late October.
Winter travelers find concert season in full swing, with absolutely no tourist crowds (except in always-packed Prague), but some accommodations and sights are either closed or run on a limited schedule. Confirm your sightseeing plans locally, especially when traveling off-season. The weather can be cold and dreary, and it gets dark outside well before dinnertime.
---
Cameron Hewitt is the co-author of the Rick Steves Eastern Europe guidebook.