By Rick Steves
So much to see, so little time. How to choose? To help you get started, I've listed my top picks for where to go in England, and my plan for your best three-week trip. (If you're considering adding Scotland and/or Wales, see my recommended itinerary for all of Great Britain.)
Depending on the length of your trip, and taking geographic proximity into account, here are my recommended priorities:
3 days: London
5 days, add: Bath and nearby sights (take a minibus tour or choose some combination of Stonehenge, Avebury, Wells, Glastonbury, and Salisbury)
7 days, add: Cotswolds
9 days, add: York
11 days, add: Lake District
14 days, add: Durham, Stratford, and Warwick or Blenheim
17 days, add: Ironbridge Gorge, Liverpool
21 days, add: Cornwall, Dartmoor
24 days, add: Choose two of the following — Cambridge, Oxford, Blackpool, Coventry, Portsmouth, Brighton, Canterbury, or Dover
Tip: Instead of spending the first few days of your trip in busy London, consider a gentler small-town start in Bath (the ideal jet-lag pillow), and let London be the finale of your trip. You'll be more rested and ready to tackle Britain's greatest city. Heathrow Airport has direct bus connections to Bath and other cities. (Bristol Airport is also near Bath.)
Rick's Best Three-Week Trip to England (by Car)
This recommended itinerary gives you an idea of how much of England's top sights you can reasonably see in 20 days. To build a solid four-week trip that includes the best of southern England as well, start with my "South England Drive" (below) and pick up this main itinerary on Day 4 (Avebury and Blenheim to Oxford). No matter what, you'll want to adapt these plans to fit your own interests and time frame.
If you enjoy big cities, you could easily spend a week in London. If villages beckon, linger in the Cotswolds, where time has all but stopped. York and Bath are inviting, walkable towns with fascinating sights.
Nature lovers will likely put the lovely Lake District and the more remote Dartmoor nearer the top of their list, while engineers are drawn like a magnet to Ironbridge Gorge.
History buffs can choose their era: prehistoric (Stonehenge, Avebury), ancient Roman (Bath, Hadrian's Wall), religious (Canterbury), medieval (York, Warwick Castle), Industrial Revolution (Ironbridge Gorge), or royal (Tower of London, Windsor, Blenheim Palace).
Literary fans make pilgrimages to Stratford-upon-Avon (Shakespeare), Bath (Austen), and the Lake District (Wordsworth and Potter). Beatles fans form here, there, and everywhere head to Liverpool. For amusement pier fun, stroll the arcades at the coastal resorts of Brighton or Blackpool.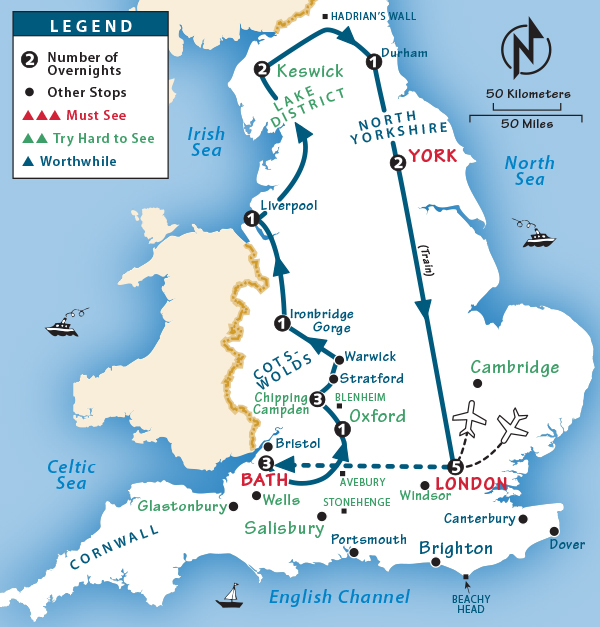 Day 1: Arrive in London, connect to Bath (sleep in Bath)
Day 2: Bath (sleep in Bath)
Day 3: Pick up car, visit Stonehenge, Wells, and Glastonbury (sleep in Bath)
Day 4: Avebury, Blenheim Palace (sleep in Oxford)
Day 5: Oxford, to the Cotswolds in the evening (sleep in Chipping Campden)
Day 6: Explore the Cotswolds (sleep in Chipping Campden)
Day 7: More Cotswolds, plus evening in Stratford if you've booked a play (sleep in Chipping Campden)
Day 8: Stratford, Warwick Castle, to Ironbridge Gorge (sleep in Ironbridge Gorge)
Day 9: Ironbridge Gorge, then Liverpool (sleep in Liverpool)
Day 10: To the Lake District, visiting the South Lake District en route to Keswick (sleep in Keswick area)
Day 11: Explore the North Lake District; hikers may want an extra day here (sleep in Keswick area)
Day 12: Visit Hadrian's Wall, then to Durham (sleep in Durham)
Day 13: Visit North Yorkshire, drop car in York (sleep in York)
Day 14: York (sleep in York)
Day 15: Morning train to London (sleep in London)
Day 16: London (sleep in London)
Day 17: London (sleep in London)
Day 18: Day trips: Windsor, Cambridge, Brighton, or Canterbury/Dover (sleep in London)
Day 19: London or another day trip (sleep in London)
Day 20: London or another day trip (if you haven't already spent an extra day in the Lake District or elsewhere; sleep in London)
Day 21: Whew!
By Train and Bus
Lacing the cities together by train is slick, and buses take you where the trains don't go. Minibus and bus tours cover outlying sights conveniently. With more time, everything is workable without a car. With limited time, I'd skip the places that have sparse transportation (particularly Ironbridge Gorge, and Hadrian's Wall). Also, consider minibus tours for regional sightseeing from Bath, York, and London. London makes a great home base for day trips, either by bus tour or public transit.
Rick's South England Drive
If you have the time and interest, consider this 11-day car trip from Canterbury to Cornwall to Bath: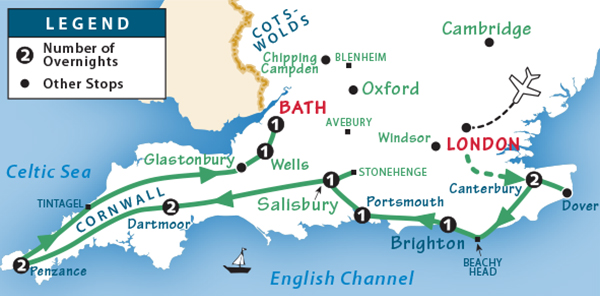 Day 1: Fly into London, train to Canterbury (sleep in Canterbury)
Day 2: Canterbury, pick up car, visit Dover (sleep in Canterbury)
Day 3: Battle of Hastings site, then Beachy Head (sleep in Beachy Head or Brighton)
Day 4: Brighton, then Portsmouth (sleep in Portsmouth)
Day 5: More Portsmouth, then Salisbury (sleep in Salisbury)
Day 6: Stonehenge (early), drive to Dartmoor National Park (sleep in Dartmoor)
Day 7: Dartmoor National Park (sleep in Dartmoor)
Day 8: Cornwall (sleep in Penzance)
Day 9: Explore Cornwall's Penwith Peninsula (sleep in Penzance)
Day 10: Tintagel, then Glastonbury (sleep in Wells)
Day 11: Wells, then Bath (sleep in Bath)
South England is best by car, but without one you can do the southeast sights as day trips from London, skip Dartmoor, reach Cornwall by train (tour the peninsula via minibus from Penzance), and do Wells and Glastonbury by bus from Bath.