Cotswolds
Cotswolds
The Cotswold Hills, a 25-by-90-mile chunk of Gloucestershire, are dotted with enchanting villages. As with many fairy-tale regions of Europe, the present-day beauty of the Cotswolds is the result of an economic disaster: The woolen industry collapsed. Once-wealthy Cotswold towns fell into a depressed time warp; the homes of impoverished nobility became gracefully dilapidated. Today, visitors enjoy a harmonious blend of man and nature — the most pristine of English countrysides decorated with time-passed villages, rich wool churches, tell-me-a-story stone fences, and "kissing gates" you wouldn't want to experience alone.
At a Glance
Chipping Campden and Nearby
▲▲ Chipping Campden Picturesque market town with finest High Street in England, accented by a 17th-century Market Hall, wool-tycoon manors, and a characteristic Gothic church.
▲▲ Stanway House Grand, aristocratic home of the Earl of Wemyss, with the tallest fountain in Britain and a 14th-century tithe barn.
▲ Stanton Classic Cotswold village with flower-filled exteriors and 15th-century church.
▲ Hidcote Manor Garden Fragrant garden organized into color-themed "outdoor rooms" that set a trend in 20th-century garden design.
▲ Broad Campden, Blockley, and Bourton-on-the-Hill Trio of villages with sweeping views and quaint homes, far from the madding crowds.
Stow-on-the-Wold and Nearby
▲▲ Stow-on-the-Wold Convenient Cotswold home base with charming shops and pubs clustered around town square, plus popular day hikes.
▲ Lower and Upper Slaughter Inaptly named historic villages — home to a picturesque waterwheel and peaceful churches.
▲ Bourton-on-the-Water The "Venice of the Cotswolds," touristy yet undeniably striking, with petite canals and impressive Cotswold Motoring Museum.
▲ Cotswold Farm Park Kid-friendly park with endangered breeds of native British animals, farm demonstrations, and sheep shows.
▲ Bibury Extremely touristy village of antique weavers' cottages, best for outdoor activities like fishing and picnicking.
▲ Cirencester Ancient 2,000-year-old city noteworthy for its crafts center and museum, showcasing artifacts from Roman and Saxon times.
Moreton-in-Marsh and Nearby
▲ Moreton-in-Marsh Relatively flat and functional home base with the best transportation links in the Cotswolds and a bustling Tuesday market.
▲ Chastleton House Lofty Jacobean-era home with a rich family history.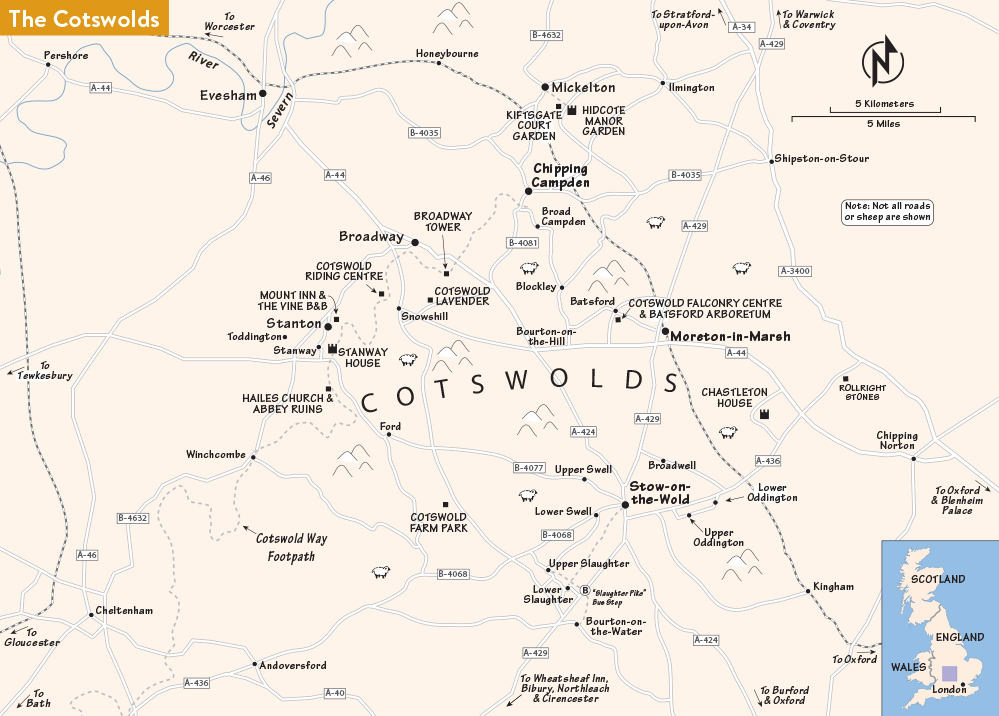 Plan
Photos
Watch
Read
Listen