Derwentwater
Lake District
The Lake District, in the northwestern English county of Cumbria, is nature's lush green playground. Here, William Wordsworth's poems still shiver in trees and ripple on ponds. Nature rules this pristine land, and humanity keeps a wide-eyed but low profile. There's a walking-stick charm about the way nature and the culture mix here. My favorite home-base here is Keswick, a compact town just inland from the lake called Derentwater. Walking along a windblown ridge or climbing over a rock fence to look into the eyes of a ragamuffin sheep, even tenderfeet get a chance to feel very outdoorsy. Relax, recharge, take a cruise or a hike, and maybe even write a poem.
At a Glance
North Lake District
In and near Keswick
▲▲▲ Scenic Circle Drive South of Keswick Hour-long drive through the best of the Lake District's scenery, with plenty of fun stops (including the fascinating Honister Slate Mine) and short side-trip options.
▲▲ Castlerigg Stone Circle Evocative and extremely old (even by British standards) ring of Neolithic stones.
▲▲ Catbells High Ridge Hike Two-hour hike along dramatic ridge southwest of Keswick.
▲▲ Buttermere Hike Four-mile, low-impact lakeside loop in a gorgeous setting.
▲▲ Theatre by the Lake Top-notch theater a pleasant stroll from Keswick's main square.
▲ Derwentwater Lake immediately south of Keswick, with good boat service and trails.
▲ Honister Slate Mine Tour Guided 1.5-hour hike through a 19th-century mine at the top of Honister Pass.
▲ Pitch-and-Putt Golf Cheap, easygoing nine-hole course in Keswick's Hope Park.
Ullswater Lake Area
▲▲ Ullswater Hike and Boat Ride Long lake best enjoyed via steamer boat and seven-mile walk.
▲▲ Lanty's Tarn and Keldas Hill Moderately challenging 2.5-mile loop hike from Glenridding with sweeping views of Ullswater.
▲ Aira Force Waterfall Easy uphill hike to picturesque waterfall.
South Lake District
▲▲ Dove Cottage and Wordsworth Museum The poet's humble home, with a museum that tells the story of his remarkable life.
▲ Rydal Mount and Gardens Wordsworth's later, more upscale home.
▲ Hill Top Farm Beatrix Potter's painstakingly preserved cottage.
▲ Beatrix Potter Gallery Collection of artwork by and background on the creator of Peter Rabbit.
The World of Beatrix Potter Touristy exhibition about the author.
Brockhole National Park Visitors Centre Best place to gather info on Lake Windermere and the surrounding area, grandly situated in a lakeside mansion.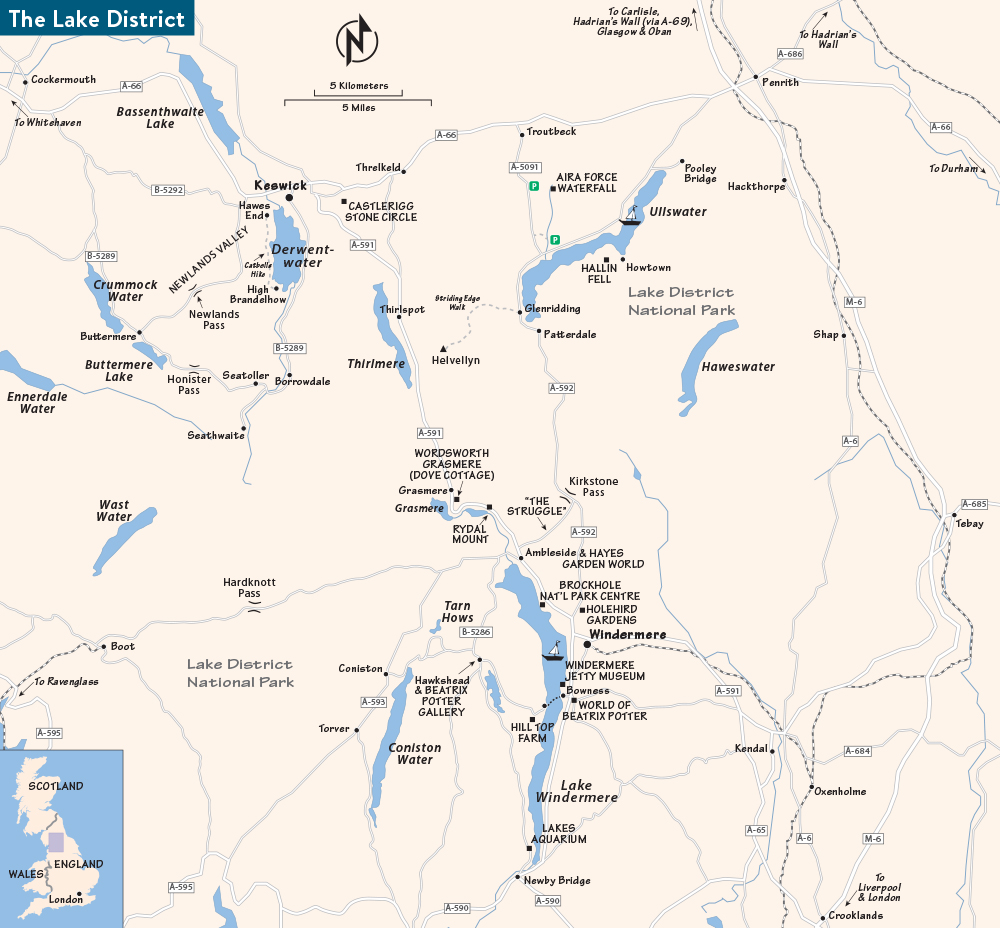 Plan
Photos
Watch
Read
Listen