St. Ives
Cornwall
Set on a rocky peninsula at the southwest tip of England, Cornwall has a Celtic vibe. Its rugged scenery and wild, uncultivated appeal make you feel as if you're approaching the end of the world (and many natives would say it's exactly that). Harboring the remnants of an endangered Celtic culture (Cornish), an extinct tin-mining industry, and a gaggle of visit-worthy sights, this is one of England's most popular holiday regions — especially among the English.
At a Glance
Penzance
Handy, workaday hub of Cornish coast with good sleeping and eating options and lovely collection of local post-Impressionist paintings.
▲ Penlee House Gallery and Museum Fine collection of work from the local Post-Impressionist Newlyn School.
St. Ives
Artsy, sun-and-sand resort town with people-friendly beaches, several worthwhile galleries, and strollable, photogenic harborside.
▲ Barbara Hepworth Museum and Sculpture Garden Small museum showcasing the work of local nonrepresentational sculptor Barbara Hepworth
Tate Gallery Branch of the prestigious London art museum focusing mostly on modern works by local artists.
Leach Pottery Museum Studio and collection of Bernard Leach, a founder of the mid-20th-century British studio-pottery movement.
Penwith Peninsula
England's scenic far west, home to some of the best sightseeing and hiking in Cornwall.
▲▲ St. Michael's Mount Monastery-turned-castle perched atop a rocky island just off the Penwith Peninsula, reachable on foot or by boat (depending on the tide).
▲▲ Penwith Peninsula Joyride Scenic drive through England's far west, with stops in fishing towns, Merry Maidens stone circle, the beach hamlet of Porthcurno (with the Minack Theatre and Telegraph Museum), crassly touristy Land's End and its untrampled alternative, and the Geevor Tin Mine.
▲ Minack Theatre Open-air theater set in a rocky cliff perched hundreds of feet over the sea.
▲ Geevor Tin Mine Fascinating exhibit on this once-bustling site of an industry that collapsed suddenly in the 1980s.
Chysauster Ancient Village Hilltop Iron Age settlement showcasing prehistoric life in southwestern England.
Telegraph Museum Interesting look at the history of the telegraph, located in a WWII strategic communications hub in Porthcurno.
Land's End Crassly touristy spot worthwhile only for those compelled to check "westernmost point in England" off their list. (Nearby Cape Cornwall is a peaceful, noncommercial alternative.)
Isles of Scilly Balmy-by-British-standards island group that's a pull for gardeners, reachable by boat from Penzance or plane from Land's End.
East Cornwall
▲▲ Tintagel Castle Ruined but still evocative castle, clinging to the misty cliffs, where many believe King Arthur was born.
▲ Eden Project Two huge greenhouses showcasing the agriculture techniques of tomorrow — with option to take it all in via zip line.
▲ Trebah and Glendurgan Gardens Pair of tropical gardens near Falmouth that take beautiful advantage of Cornwall's warmer microclimate.
Padstow and Port Isaac Two seaside villages just west of Tintagel; the former famous for its celebrity-chef fish restaurants, the latter as the setting of the Doc Martin TV series.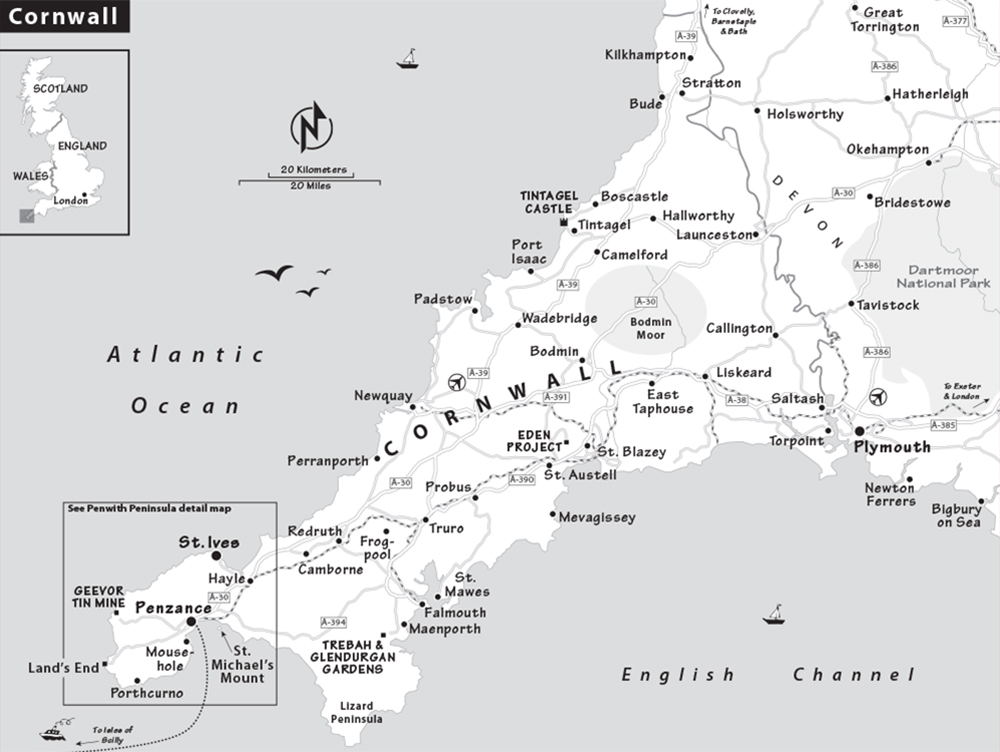 Plan
Photos
Watch
Read
Listen