By Rick Steves and Pat O'Connor
So much to see, so little time. How to choose? To help you get started, I've listed my top picks for where to go in Ireland, my plan for your best three-week trip, and tips on when to go.
Depending on the length of your trip, and taking geographic proximity into account, here are my recommended priorities:
3 days: Dublin
5 days, add: Dingle Peninsula
8 days, add: Galway, Aran Islands, slow down
10 days, add: County Clare/Burren, Kilkenny/Cashel
13 days, add: Belfast, Antrim Coast
16 days, add: Kinsale, Kenmare/Ring of Kerry
19 days, add: Derry, Connemara, Wicklow Mountains/Valley of the Boyne
21 days: Slow down
Ireland's Best Three-Week Trip (by Car)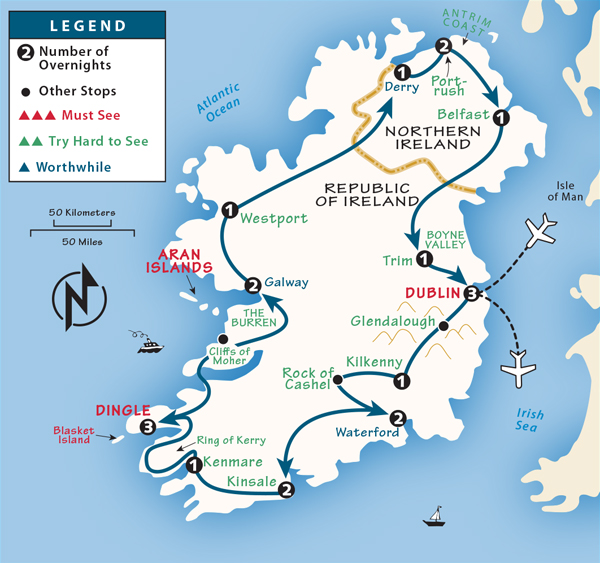 Day 1: Fly into Dublin (sleep in Dublin)
Day 2: Dublin (sleep in Dublin)
Day 3: Dublin (sleep in Dublin)
Day 4: Rent car, drive to Glendalough (sleep in Kilkenny)
Day 5: Cashel (sleep in Waterford)
Day 6: Waterford (sleep in Waterford)
Day 7: Explore County Wexford (sleep in Kinsale)
Day 8: Charles Fort and Cobh (sleep in Kinsale)
Day 9: Muckross House and Farms (sleep in Kenmare)
Day 10: Ring of Kerry (sleep in Dingle)
Day 11: Dingle Peninsula Loop (sleep in Dingle)
Day 12: Blasket Island, Dingle town (laundry and rest; sleep in Dingle)
Day 13: Cliffs of Moher, the Burren, Dunguaire Castle banquet (sleep in Galway)
Day 14: Aran Islands (sleep in Galway)
Day 15: Explore Connemara (sleep in Westport)
Day 16: Drive to Northern Ireland (sleep in Derry)
Day 17: Explore Derry (sleep in Portrush)
Day 18: Explore Antrim Coast (sleep in Portrush)
Day 19: Belfast (sleep in Belfast)
Day 20: Drive to Valley of the Boyne sights (sleep in Trim)
Day 21: Return car and fly home from Dublin
By Public Transportation
For three weeks without a car, cut back on the recommended sights with the most frustrating public transportation (Ring of Kerry, the Burren, Valley of the Boyne, Connemara, and County Wexford). You can book day tours by bus for some of these areas at local tourist information offices. For at least two people traveling together, taxis — though expensive — can work in a pinch if bus schedules don't fit your plans (i.e., Cork to Kinsale). If you have time for only one idyllic peninsula on your trip, I'd suggest the Dingle Peninsula over the Ring of Kerry. If you're picking up a car at Dublin Airport, consider a gentler small-town start in Trim, and let Dublin be the finale, when you're rested and ready to tackle the city.
When to Go
June and July are my favorite times because of the longer days and the busier schedule of tourist fun. Summer crowds continue to grow in Ireland as they do in much of Europe, especially with the expansion of the cruise-ship industry. Cruise crowds hit Dublin, the Cobh/Cork region, and Belfast the hardest. Travel during "shoulder season" (May, early June, Sept, and early Oct) is easier and a bit less expensive. Shoulder-season travelers get smaller crowds, the full range of sights and tourist fun spots, and the ability to book a room with less competition — often at a flexible price. Winter travelers find absolutely no crowds, soft room prices, shorter sightseeing hours, and colder rain. Some attractions are open only on weekends or are closed entirely in the winter (Nov–Feb). The winter weather can be chilly, blustery, and dreary, and nightfall draws the shades on sightseeing well before dinnertime. In summer, travelers can usually plan on attractions being open from 9:00 to 18:00, while winter travelers are often forced to squeeze everything in between 10:00 and 16:00. Check the hours for each sight of interest to you — many sights stop allowing visitors to enter as much as an hour ahead of closing time. While Ireland's rural charm falls with the leaves, city sightseeing is fine in the winter.
In Ireland, there really isn't a "dry season" that you can plan on, as rainfall is ladled out evenly throughout the year. Plan for rain no matter when you go and consider sunny days a bonus. The weather can change several times in a day, but rarely is it extreme. Just keep traveling and take full advantage of "bright spells." Bring a jacket and dress in layers. Daily averages throughout the year range between 42°F and 70°F. Temperatures below 32°F cause headlines, and days that break 80°F — while increasing in recent years — are still rare.
While sunshine may be rare, summer days are very long. Dublin is as far north as Edmonton, Canada, and Portrush is as far north as Ketchikan on the Alaskan panhandle. The midsummer sun is up from 4:30 until 22:30. It's not uncommon to have a gray day, eat dinner, and enjoy hours of sunshine afterward.
---
Pat O'Connor is the co-author of the Rick Steves Ireland guidebook.