By Rick Steves and Pat O'Connor
So much to see, so little time. How to choose? To help you get started, we've listed our top picks for where to go in Ireland, and our plan for your best three-week trip.
Depending on the length of your trip, and taking geographic proximity into account, here are our recommended priorities:
3 days: Dublin
5 days, add: Dingle Peninsula
8 days, add: Galway, Aran Islands, slow down
10 days, add: County Clare/Burren, Kilkenny/Cashel
13 days, add: Belfast, Antrim Coast
16 days, add: Kinsale, Kenmare/Ring of Kerry
21 days: Slow down
Rick's Best Three-Week Ireland Trip (by Car)
Spend your first three nights in Dublin, using buses and taxis, then pick up a car for the rest of this itinerary. If you'd rather save Dublin for your finale, when you're rested and ready to tackle the big city, rent your car at the airport upon landing, and start your trip in small-town Trim (nearby), which makes a mellow first-night stop. If you have time for only one idyllic peninsula on your trip, choose the Dingle Peninsula over the Ring of Kerry.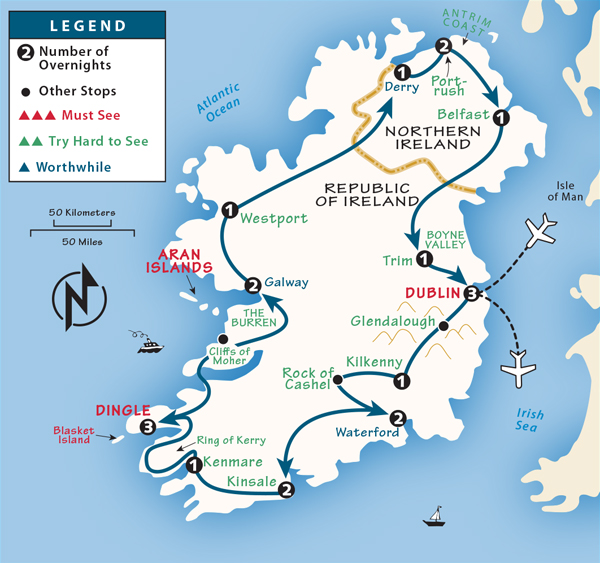 Day 1: Fly into Dublin (sleep in Dublin)
Day 2: Dublin (sleep in Dublin)
Day 3: Dublin (sleep in Dublin)
Day 4: Rent car, drive through Glendalough (sleep in Kilkenny)
Day 5: Rock of Cashel (sleep in Waterford)
Day 6: Waterford (sleep in Waterford)
Day 7: Explore County Wexford and Cobh (sleep in Kinsale)
Day 8: Kinsale (sleep in Kinsale)
Day 9: Drive to Kenmare (sleep in Kenmare)
Day 10: Ring of Kerry (sleep in Dingle)
Day 11: Slea Head Loop (sleep in Dingle)
Day 12: Blasket Island, Dingle town (sleep in Dingle)
Day 13: Cliffs of Moher, the Burren, Dunguaire Castle banquet (sleep in Galway)
Day 14: Aran Islands (sleep in Galway)
Day 15: Explore Connemara (sleep in Westport)
Day 16: Drive to Northern Ireland (sleep in Derry)
Day 17: Derry (sleep in Portrush)
Day 18: Explore the Antrim Coast (sleep in Portrush)
Day 19: Drive to Belfast (sleep in Belfast)
Day 20: Drive to Boyne Valley sights (sleep in Trim)
Day 21: Return car and fly home from Dublin
By Public Transportation
For three weeks without a car, cut back on the recommended sights with the most frustrating public transportation (County Wexford, the Ring of Kerry, the Burren, Connemara, and the Boyne Valley). You can book day tours by bus for some of these areas at local tourist information offices. For at least two people traveling together, taxis — though expensive — can work in a pinch if bus schedules don't fit your plans (e.g., Cork to Kinsale).
---
Pat O'Connor is the co-author of the Rick Steves Ireland guidebook.