By Rick Steves
So much to see, so little time. How to choose? To help you get started, I've listed my top picks for where to go in Switzerland, and my plan for your best two-week trip.
Depending on the length of your trip, and taking geographic proximity into account, here are my recommended priorities:
3 days: Lauterbrunnen Valley (Berner Oberland)
5 days, add: Luzern and Central Switzerland
7 days, add: Bern and Lake Geneva area, connecting with Golden Pass scenic rail journey
14 days, add: Lugano and Upper Engadine, connecting with Bernina Express and Gotthard Panorama Express train rides
16 days, add: Zürich and Murten
21 days, add: More day trips (French Swiss countryside), more hikes, and time to slow down
Rick's Best Two-Week Trip to Switzerland (by Train)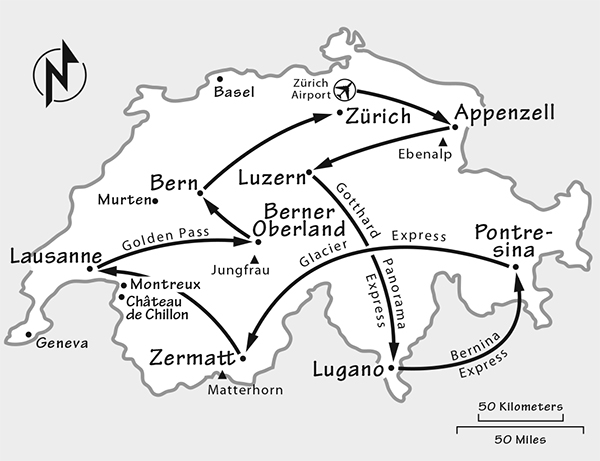 Day 1: Arrive Zürich Airport, head to Appenzell (sleep in Appenzell or on Ebenalp)
Day 2: All day for Appenzell and Ebenalp (sleep in Appenzell or on Ebenalp)
Day 3: Leave early for Luzern (sleep in Luzern)
Day 4: Luzern (sleep in Luzern)
Day 5: Boat, then train to Lugano along Gotthard Panorama Express route (sleep in Lugano)
Day 6: Bernina Express to Upper Engadine (sleep in Pontresina)
Day 7: Upper Engadine (Pontresina, St. Moritz, and Samedan; sleep in Pontresina)
Day 8: Take Glacier Express; if weather's good, head for Zermatt; if weather's bad, consider going straight to Lausanne (sleep in Zermatt)
Day 9: Zermatt and hikes, Matterhorn-view lifts (sleep in Zermatt)
Day 10: If weather's good, spend more time in Zermatt and go late to Lausanne; if weather's bad, leave early for Lausanne (sleep in Lausanne)
Day 11: Take the Golden Pass to the Lauterbrunnen Valley. If weather's good, go early; if weather's bad, linger in Lausanne/Lake Geneva area and leave late (sleep Gimmelwald or Mürren)
Day 12: All day for lifts and hikes in the Lauterbrunnen Valley (sleep in Gimmelwald or Mürren)
Day 13: More time in the Lauterbrunnen Valley (sleep in Gimmelwald or Mürren)
Day 14: Early to Bern, then on to Zürich (sleep in Zürich)
Day 15: More time in Zürich, or fly home
Notes
Zermatt isn't worth the trip in bad weather. If your reservations are flexible, consider skipping that leg and going straight to Lausanne (take the Glacier Express only to Brig, then change for Lausanne).
To connect Luzern and Lugano, follow the Gotthard Panorama Express route, but don't spend extra for the official tourist package-trip.
If you have extra time in Switzerland, I'd suggest spending it in (listed in order of priority): Murten and Bern, Zürich, Lausanne and the Lake Geneva area, Lugano (relaxing) or the Luzern area (day trips). For a short trip of a week or so, I'd just focus on the Lauterbrunnen Valley, Luzern, and Bern.
Rail Pass: The best rail pass for this itinerary is a Swiss Travel Pass, specifically for 15 consecutive days. This pass doesn't cover most higher mountain lifts, but it usually earns you a 50 percent discount.
By Car: Although this itinerary is designed for public transportation, it can be done by car with a few modifications. Obviously, you won't take the scenic rail trips. Instead, drive from Appenzell straight to the Upper Engadine, then continue through Tirano and on to Lugano (via Lake Como in Italy). From Lugano, drive to Zermatt (crossing again through Italy) and resume the above itinerary, visiting Luzern at the end before returning to Zürich. The French Swiss countryside and the area around Murten merit more time if you have a car.
Beyond Switzerland: Switzerland, right in the middle of western Europe, splices neatly into a multicountry trip by car or train. For instance, the Appenzell region is a likely gateway to Germany's Bavaria or Austria's Tirol. Italy's Lake Como is a stone's throw from Lugano (in fact, the Bernina Express bus drives right alongside it) — and Milan is not much farther. If you're in Lausanne, you're literally looking at France (across Lake Geneva), and a handy train ride whisks you to Lyon or Chamonix. And big Swiss cities are efficiently connected by fast trains to destinations in all of these countries and beyond.