By Rick Steves
So much to see, so little time. How to choose? To help you get started, I've listed my top picks for where to go in Switzerland, my plan for your best two-week trip, and tips on when to go.
Depending on the length of your trip, and taking geographic proximity into account, here are my recommended priorities:
3 days: Berner Oberland
5 days, add: Luzern and Central Switzerland
7 days, add: Bern and Lake Geneva area, connecting with Golden Pass scenic rail journey
10 days, add: Zermatt and Appenzell, linking them with the Glacier Express train
14 days, add: Lugano and Pontresina area, connecting with Bernina Express and Gotthard Panorama Express train rides
16 days, add: Zürich and Murten
21 days, add: More day trips (French Swiss countryside), more hikes, and time to slow down
Switzerland's Best Two-Week Trip (by Train)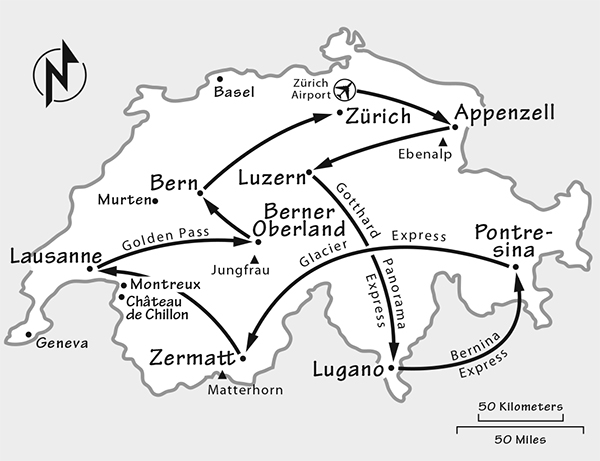 Day 1: Arrive Zürich Airport, head to Appenzell (sleep in Appenzell or on Ebenalp)
Day 2: All day for Appenzell and Ebenalp (sleep in Appenzell or on Ebenalp)
Day 3: Leave early for Luzern (sleep in Luzern)
Day 4: Luzern (sleep in Luzern)
Day 5: Boat, then train to Lugano along Gotthard Panorama Express route (sleep in Lugano)
Day 6: Bernina Express to Pontresina area (sleep in Pontresina)
Day 7: Pontresina area (with St. Moritz and Samedan; sleep in Pontresina)
Day 8: Take Glacier Express; if weather's good, head for Zermatt; if weather's bad, consider going straight to Lausanne (sleep in Zermatt)
Day 9: Zermatt and hikes, Matterhorn-view lifts (sleep in Zermatt)
Day 10: If weather's good, spend more time in Zermatt and go late to Lausanne; if weather's bad, leave early for Lausanne (sleep in Lausanne)
Day 11: Take the Golden Pass to the Berner Oberland. If weather's good, go early; if weather's bad, linger in Lausanne/Lake Geneva area and leave late (sleep in the Berner Oberland: Gimmelwald or Mürren)
Day 12: All day for lifts and hikes in the Berner Oberland (sleep in Gimmelwald or Mürren)
Day 13: More time in the Berner Oberland (sleep in Gimmelwald or Mürren)
Day 14: Early to Bern, then on to Zürich (sleep in Zürich)
Day 15: More time in Zürich, or fly home
Notes
Zermatt isn't worth the trip in bad weather. If your reservations are flexible, consider skipping that leg and going straight to Lausanne (take the Glacier Express only to Brig, then change for Lausanne).
To connect Luzern and Lugano, follow the William Tell Express route, but don't spend extra for the official tourist package-trip.
If you have extra time in Switzerland, I'd suggest spending it in (listed in order of priority): Murten and Bern, Zürich, Lausanne and the Lake Geneva area, Lugano (relaxing) or the Luzern area (day trips). For a short trip of a week or so, I'd just focus on the Berner Oberland, Luzern, and Bern.
Rail Pass: The best rail pass for this itinerary is a Swiss Travel Pass, specifically for 15 consecutive days. This pass doesn't cover mountain lifts, but it does earn you a 50 percent discount on most of them.
By Car: Although this itinerary is designed for public transportation, it can be done by car with a few modifications. Obviously, you won't take the scenic rail trips. Instead, drive from Appenzell straight to the Pontresina area, then continue through Tirano and on to Lugano (via Lake Como in Italy). From Lugano, drive to Zermatt (crossing again through Italy) and resume the above itinerary, visiting Luzern at the end before returning to Zürich. The French Swiss countryside and the area around Murten merit more time if you have a car.
Beyond Switzerland: Switzerland, right in the middle of Western Europe, splices neatly into a multicountry trip by car or train. For instance, the Appenzell region is a likely gateway to Germany's Bavaria or Austria's Tirol. Italy's Lake Como is a stone's throw from Lugano (in fact, the Bernina Express bus drives right alongside it) — and Milan is not much farther. If you're in Lausanne, you're literally looking at France (across Lake Geneva), and a handy train ride whisks you to Lyon or Chamonix. And big Swiss cities are efficiently connected by night trains and fast day trains to destinations in all of these countries and beyond.
When to Go
The summer "tourist season" runs roughly from May through September, though in mountainous areas, it doesn't start until sometime in June. High summer (July–Aug) has its advantages: the best weather, snow-free alpine trails, very long days (light until after 21:00), and the busiest schedule of tourist fun. In late May, June, September, and early October, travelers enjoy fewer crowds, mild weather, and the ability to grab a room almost whenever and wherever they like.
During the Zwischenzeit ("between time" — that is, between summer and ski seasons, roughly April, early May, late Oct, and Nov), the cities are pleasantly uncrowded, but mountain resort towns such as Zermatt and Mürren are completely dead (most hotels and restaurants are closed, and the weather is iffy).
During ski season (Dec–March), mountain resorts are crowded and expensive, while cities are quieter (some accommodations and sights are either closed or run on a limited schedule). The weather can be cold and dreary, and nighttime will draw the shades on your sightseeing before dinner. But Christmastime traditions (such as colorful markets and special holiday foods) can warm up your trip at this chilly time of year.
Pack warm clothing for the Alps, no matter when you go — the weather can change suddenly.