Austria Rail Passes and Train Tips
By Rick Steves
Are rail passes a good value for Austria?
Generally speaking, yes — and since hardly any daytime trains require reservations, a pass is also more convenient than buying tickets as you go.
How do I see whether a rail pass makes sense for my trip in particular?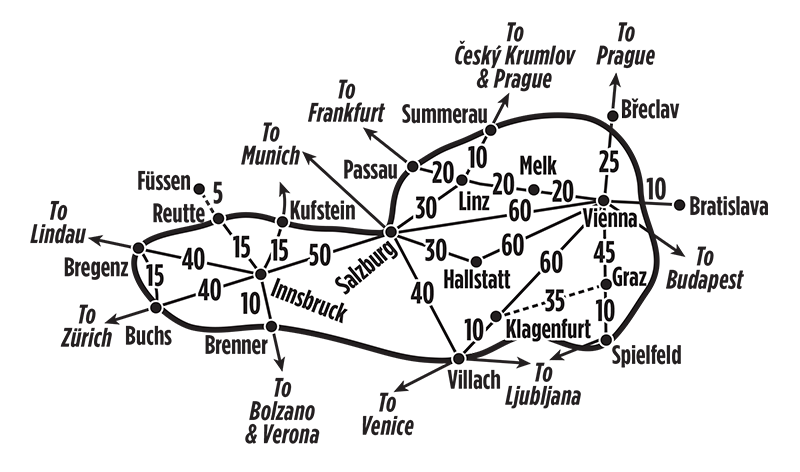 Use this map to add up approximate pay-as-you-go fares for your itinerary, and compare that cost to the price of a rail pass for the number of days you expect to spend on the train. Also, follow the links below for:
• More tips for figuring out whether a pass makes sense for your trip
• The basics on choosing among rail passes
• More tips on how to save money by fine-tuning your rail pass
• Advice on deciding between first and second class
• Fare-estimate maps outside Austria
• Answers to frequently asked rail-pass questions
What are my options for rail passes that cover Austria?

Austria Eurail Pass

Eurail Global Pass (33 countries) → read more about this pass
►Rail Europe shopping cart: Have an order underway? Review and complete it here.
Do I need to make seat reservations on Austrian trains?
For the most part, you can hop on most Austrian trains with just your rail pass in hand. Only overnight trains, and some international routes, require reservations (as indicated in online train schedules).
What do rail passes cover in Austria?
All trains within Austria operated by the national railway (the ÖBB), as well as the following extras:
Trains running nonstop between Salzburg and Kufstein, even when they cross a bit of Germany. (Trains that stop in Germany — e.g. at Rosenheim, in the southeast corner of Germany — are only covered by rail passes that include Germany…and of course by point-to-point tickets.)
S-Bahn trains (but not U-Bahn trains) in Vienna and Innsbruck. (This bonus is usually only relevant on the days you arrive or depart on a longer train ride, since otherwise it makes little sense to use up a rail pass travel day for a short, inexpensive trip.)
Privately operated WestBahn trains.
50 percent discount on certain Lake Constance boats.
20 percent discount on certain Danube river cruises.
The bus between Klagenfurt and Graz, which is run by the national railway. Reservations cost about $15; if your pass doesn't cover both countries, you'll also need to pay a supplement. (A popular bus connection shown on the train-fare map on this page — the dashed line between Reutte and Füssen — is not covered by rail passes.)
Other bonuses are described in materials that come with the rail pass.
Any tips for buying point-to-point train tickets in Austria?
If a rail pass doesn't pencil out for your trip, you may be able to shave off the cost of your train tickets with some of these tips:
Youths (under 26), seniors (62+), and families with kids under 15 can save up to 50 percent on point-to-point train tickets with a Vorteilscard (€19–29, valid for one year, requires photo). In Austria, kids under 6 ride free without a ticket (whereas train travel in most neighboring countries is free only for kids under 4).
Group-ticket discounts start at two travelers and get better as you add more people.
With Sparscheine discounts, you can nab some great deals by buying a train ticket at least three days in advance for pre-selected dates and times (seats are limited and refund restrictions apply; not sold by US agents).
High-speed connections between Vienna and Salzburg are usually cheaper on WestBahn trains than ÖBB's Railjet trains (and WestBahn sells tickets on board at no extra cost).
Search for Austrian ticket fares on the national railway's site. You can also order by phone at +43 5 1717; dial 4, then ask for help in English.
Those staying longer in Austria can get discounts for a full year by purchasing a full-fare ("Classic") Vorteilscard or one of several Österreichcards.
Also see our general tips for buying point-to-point tickets.
---