France Rail Passes and Train Tips
By Rick Steves
Are rail passes a good value for France?
Rail passes can be a good value in France if you'll be taking some long-distance rides, or riding mostly on trains that don't require reservations. But if you're taking just a couple of train rides and can commit to dates and times in advance, look into France's advance-purchase discounts on point-to-point train tickets, which may save you money over a pass, and be the best way to secure seats on your prefered train departures (as reservations may be limited for passholders).
How do I see whether a rail pass makes sense for my trip in particular?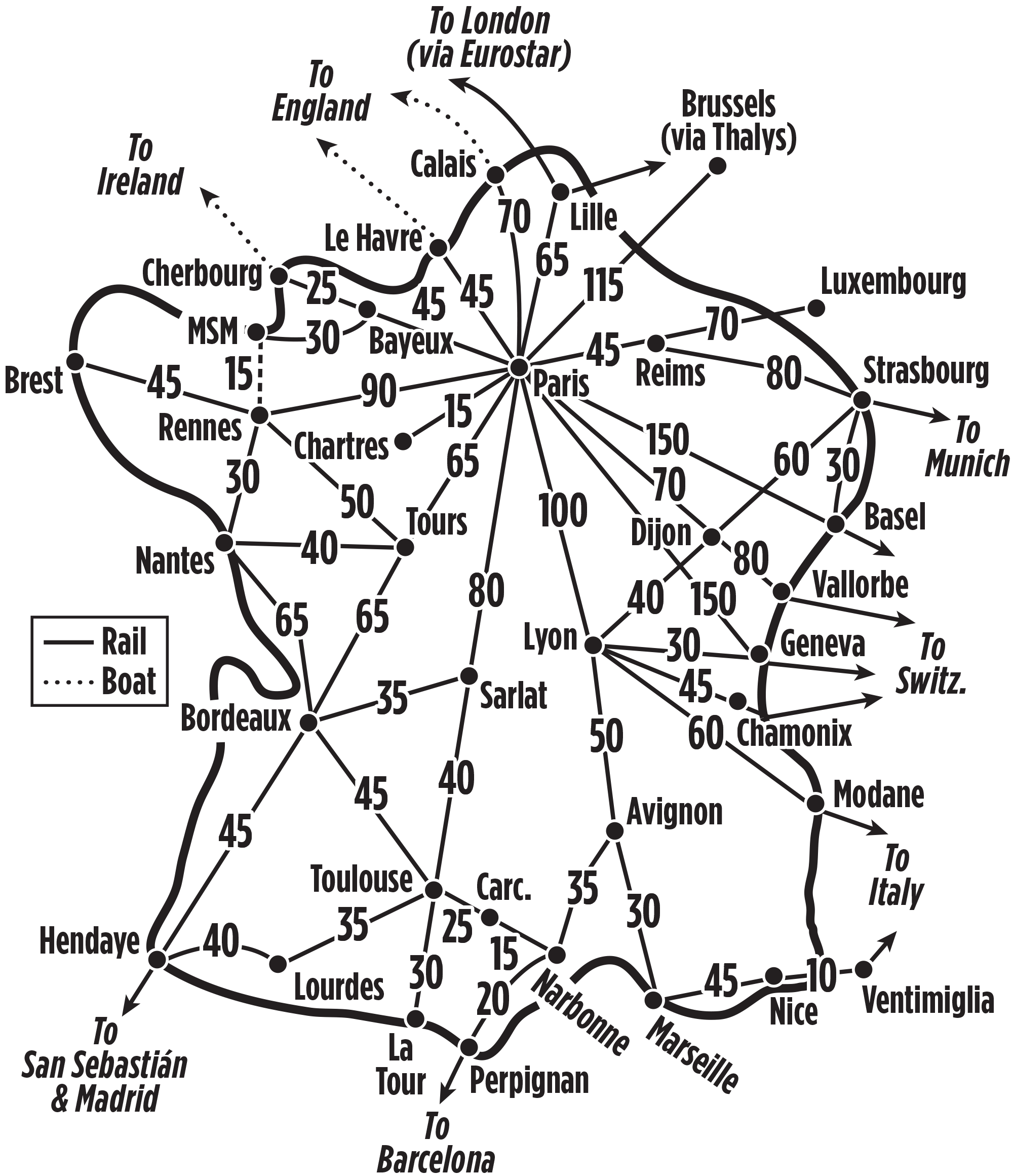 Use this map to add up approximate pay-as-you-go fares for your itinerary, and compare that cost to the price of a rail pass for the number of days you expect to spend on the train. Also, follow the links below for:
• More tips for figuring out whether a pass makes sense for your trip
• The basics on choosing among rail passes
• More tips on how to save money by fine-tuning your rail pass
• Advice on deciding between first and second class
• Fare-estimate maps outside France
• Answers to frequently asked rail-pass questions
What are my options for rail passes that cover France?

France Eurail Pass

Eurail Global Pass (33 countries) → read more about this pass
►Rail Europe shopping cart: Have an order underway? Review and complete it here.
Do I need to make seat reservations on French trains?
On most regional trains, such as between Paris and Normandy, rail-pass holders can just hop on and find an open seat. But many types of French trains always require paid seat reservations:
TGV trains, the high-speed trains that serve most of France's main lines as well as some international routes, require seat reservations. Seat reservations for domestic routes start at $11, and go up to $27 as seating sells out. These trains can fill up, especially around weekends, holidays, and special events.
International TGV trains charge a range of prices for required seat reservations (higher than rates within the country, and often higher in first class — and the number of places available for rail-pass holders can be limited). On direct TGV Lyria trains between France and major Swiss cities, for example, reservations are fairly expensive (with a Eurail Global Pass, about $35 in second class or $70 in first), but cheaper on TGVs within France. Be aware that seat reservations for direct daytime connections between Paris and anywhere in Italy or Spain sell out fairly far in advance. See our further advice on France–Italy trains.
Eurostar trains to Brussels (and points beyond) require reservations that cost $25–35 provided that you're traveling with a pass that covers both ends of the trip. Eurostar has a monopoly on the Paris–Brussels direct route — reserve as far ahead as possible.
Eurostar trains across the English Channel between London and France (Paris, Lille, and Disneyland) accept Eurail Global Passes, but not the France Eurail Pass. Reservations cost about $35 in Standard class or $45 in Standard Premier in addition to starting use of a rail pass travel day.
Night trains within France are now rare. On those still running, four-passenger couchette compartments require a first-class ticket or rail pass, six-passenger couchettes accept second-class rail passes, and there are no private sleepers.
Book your required-reservation train trips as soon as you can commit to a date and time; they're available starting 90 days in advance (sometimes even earlier).
To check whether a given train requires reservations, check online train schedules.
What do rail passes cover in France?
Aside from the extra reservation fees required for certain classes of train (see above), rail passes for France cover most travel on trains operated by the SNCF, France's national railway.
The only notable exception: the discount-brand "OUIGO" class of TGV trains, which operates on limited routes, and works somewhat like a no-frills airline (e.g. they limit luggage size and seat selection, and require early check-in). Rail passes also don't cover the privately run trains on the island of Corsica or those between Nice and Digne (just buy tickets in stations as you go).
Any tips for buying point-to-point train tickets in France?
If a rail pass doesn't pencil out for your trip, you may be able to shave off the cost of your train tickets with some of these tips:
Advance-purchase discounts: Buying tickets in advance from SNCF'S site can get you 50 percent off the full fare. The best deals have limited seat availability, sell out early, are not refundable or changeable, and aren't always sold by US-based retailers.
Youths (27 and younger), seniors (60 and older), and families can purchase a discount card for €49 to get additional 30 percent discounts on many train tickets. Note that the offer is new and not well described online.
Also see our general tips for buying point-to-point tickets.
---