Italy Rail Passes and Train Tips
By Rick Steves
Are rail passes a good value for Italy?
Not for most people — think carefully before buying a rail pass, especially if your trip doesn't extend beyond Italy. Most train travelers in Italy spend each rail-travel day taking relatively short rides on the Milan–Venice–Florence–Rome circuit. For these trips (most of which cost less than $50 for a second-class ticket), it's cheaper to buy point-to-point train tickets than a rail pass (since most cost more than $50 per day). Furthermore, a rail pass doesn't provide much hop-on convenience in Italy, since many trains require paid seat reservations, as indicated in train schedules (see below for more Italy-specific reservation advice).
All that said, keep in mind that per-day costs are lower for longer-term rail passes — so if you'll be doing a lot of Italian train travel, a pass may indeed pencil out (especially if you're venturing beyond Italy on a larger European trip).
How do I see whether a rail pass makes sense for my trip in particular?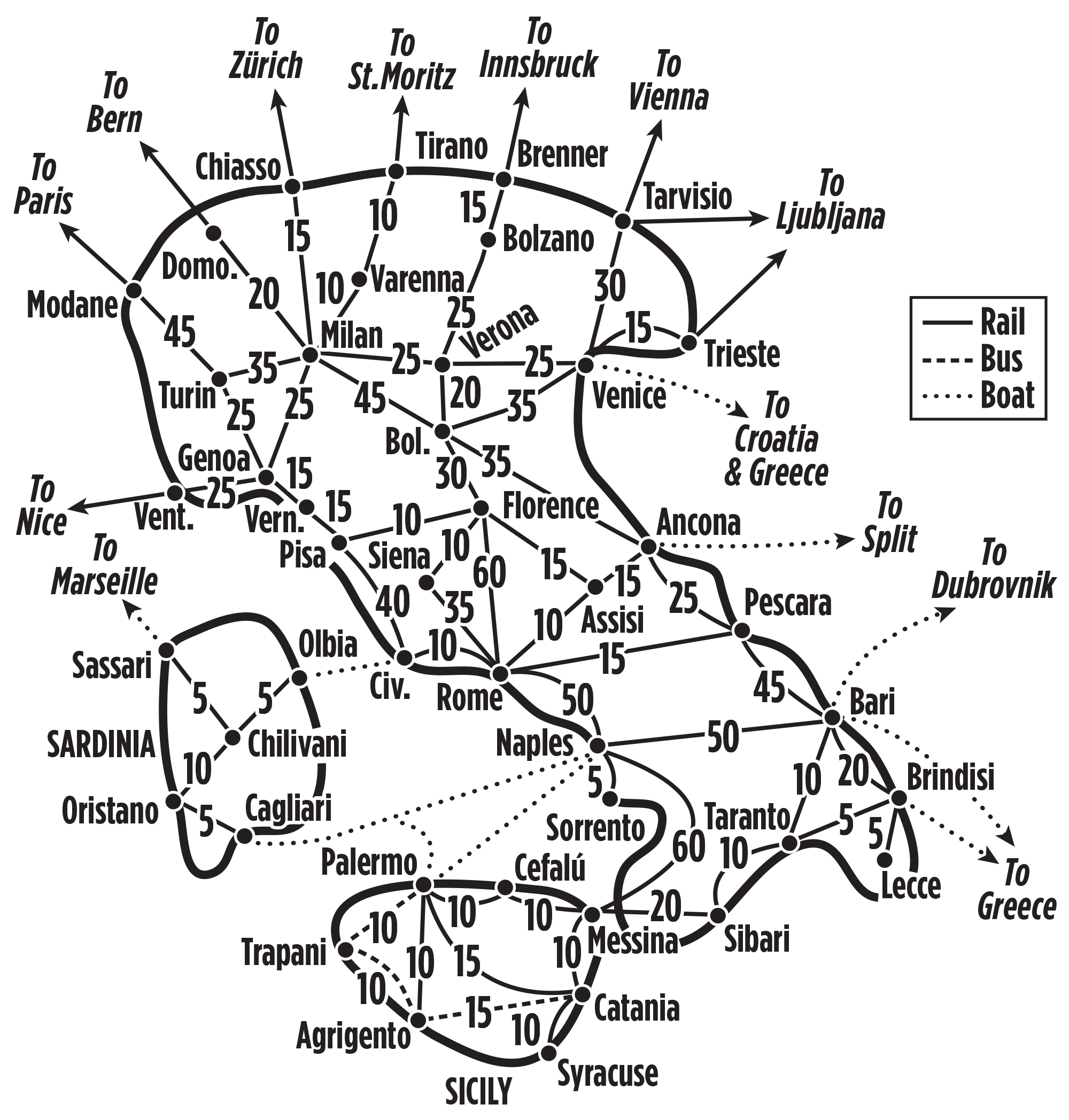 Use this map to add up approximate pay-as-you-go fares for your itinerary, and compare that cost to the price of a rail pass for the number of days you expect to spend on the train. Fares shown on the map include reservations when required, but they cost extra when using a rail pass. (Dashed lines show ferry routes.)
Also, follow the links below for:
• More tips for figuring out whether a pass makes sense for your trip
• The basics on choosing among rail passes
• More tips for getting the most out of a rail pass
• General advice on deciding between first and second class
• Fare-estimate maps outside Italy
• Answers to frequently asked rail-pass questions
What are my options for rail passes that cover Italy?
Choose one of the passes below to check prices and to buy your pass (orders are fulfilled by Rail Europe).

Italy Eurail Pass → key details

2-Country Eurail Select Pass → read more about Select Passes

3-Country Eurail Select Pass

4-Country Eurail Select Pass

Eurail Global Pass (28 countries) → read more about this pass
►Rail shopping cart: Have an order underway? Review and complete it here.
Extra tip #1: Think carefully before getting a Greece–Italy Select Pass: Since it's affordable to buy train tickets locally in both Italy and Greece, and since Greece has just a few rail lines operating, this pass is not a wise move for most travelers (those traveling by ferry between Greece and Italy and taking several Greek ferries may do better with the Greek Islands Eurail Pass).
Extra tip #2: If you're considering a two-country Italy–Spain Select Pass, note that it doesn't cover any train travel through France (it does, however, get you a 20 percent discount on Grimaldi Lines ferries between Italy and Spain, as do other Select Passes and the Global Pass). If you're considering adding France to your Select Pass just to cover that stretch, keep in mind that you can also cover that route by buying a separate point-to-point train ticket (roughly $130 in second class) once you get to Europe (or fly).
Do I need to make seat reservations on Italian trains?
For most trains between most major destinations, yes, you do. You don't necessarily need to make the reservations that far in advance, but if you're traveling with a rail pass, don't assume you can hop on any Italian train with just your pass in hand. Even with a pass, you still need to pay a little extra to ride the fastest trains on the main routes connecting Italy's bigger cities.
Le Frecce trains: These trains provide most of the high-speed service on the main lines between Milan, Venice, Bologna, Florence, Rome, and Naples. Reservations are required, and cost about $12 per leg if you have a rail pass.
EuroCity, InterCity, and international trains: Reservations are required, and cost about $10 if you have a rail pass.
Regional trains: Most trains that aren't on the main lines, such as most Florence–Pisa–Cinque Terre service, don't require (or even offer) reservations.
You can buy passholder seat reservations at train stations and major travel agencies, reserving several key trains in one visit. There is no deadline to reserve and no limit to the number of seats allocated to rail-pass holders on the Italian State Railway.
What do rail passes cover in Italy?
Aside from the extra reservation fees required for certain classes of train (see above), rail passes cover all travel on trains run by the Italian State Railway (Ferrovie dello Stato Italiano).
Rail passes do not, however, cover most privately run trains, such as these biggies:
Thello night trains: These trains are your only direct night-train option between Paris and Italy; they also operate a daytime Milan–Genova–Nice–Marseille route. While passholders are eligible for a 25 percent discount on the night trains, this doesn't beat most advance-purchase deals — for the best price, buy your ticket months ahead (or consider flying).
Italo: These high-speed trains connect Italy's main cities…but so do the equally fast and more frequent Le Frecce trains, which are covered by rail passes (though they do require a paid seat reservation; see above).
Circumvesuviana: This service is your main train option to get from Naples to Pompei and Sorrento; fortunately, tickets between Naples and either Pompei or Sorrento only cost about $5.
Malpensa Express: The train between Milan's Malpensa Airport and the city's central station (Milano Centrale) costs about $15.
Campania Express: This tourist-oriented service runs four times a day, March - October, from Naples to Pompei and Sorrento.
Besides the popular-with-tourists trains listed above, several other privately run Italian railways don't accept rail passes; for the rest of the list, see the sidebar on this page.
Also worth knowing:
Required reservations for most daytime Italy–France service (all TGV trains on the Paris–Lyon–Torino–Milan line) tend to sell out very far in advance. See our tips for booking Italy–Paris trains.
Rome's Fiumicino Airport Express train is part of the national railway system, but since all its seating is considered first class, it accepts only first-class rail passes (otherwise, tickets cost about $15).
The bus between Villach, Austria and Venice (Mestre and Tronchetto stations), which is run by the Austrian Railway, is covered by rail passes. Reservations cost about $15; if your pass doesn't cover both countries, you'll also need to pay a supplement.
Buses not operated by the national railway (that's most buses in Italy) aren't covered by rail passes.
Any tips for buying point-to-point train tickets in Italy?
If a rail pass doesn't pencil out for your trip, you may be able to shave off the cost of your train tickets — or at least some of the hassle — with some of these tips:
Avoid train-station ticket lines whenever possible by using the ticket machines found in station halls.
If you do use the ticket windows, be sure to stand in the correct line.
You can buy train tickets (and make seat reservations) at major travel agencies in Italian city centers, reserving several key trains at one stop. The cost is only a little more, it can be more convenient (if you find yourself near a travel agency while you're sightseeing), there are no crowds, and the language barrier can be smaller than at the station's ticket windows.
Advance-purchase discounts are available online for reserved, medium-speed and faster trains (but not regional trains), and come in three price levels: "Super Economy" (up to 75 percent off), "Economy," and "Base" (full, unrestricted) fare. Privately owned Italo trains have similar advance-purchase rates between major cities.
Seniors (60 and older) can buy a Carta d'Argento (€30; free if 75 or older), which gives holders a 15 percent discount on most train tickets.
Youths (25 and younger) can buy a Carta Verde (€40), which gives holders a 10 percent discount on most train tickets.
If traveling with kids, ask for the "Offerta Familia" deal when buying tickets at a counter (or, at a ticket machine, choose "Yes" at the "Do you want ticket issue?" prompt, then choose "Familia"). While the deal doesn't apply to all trains at all times, with this discount families of three to five people with at least one kid (age 12 or under) get 50 percent off the child fare, and 20 percent off the adult fare. You may also see a "Bimbi Gratis" offer: One child age 5–15 free per adult who pays the full base fare. (Even without these deals, kids ages 3 and under travel free on Italian trains; ages 4–11 ride for half price on regional trains — and the half-price deal extends up to and including age 14 on long-distance Italian trains.)
Get even more advice on Italian trains in my full-length guidebooks for Italy: Rick Steves Italy, Rick Steves Rome, Rick Steves Venice, or Rick Steves Florence & Tuscany.
Check our general tips for buying point-to-point tickets.
---
Italy Rail Passes: Key Details
Single-country Italy Eurail Pass: Note that adding extra days on this pass, at about $20–40/day, is significantly cheaper than doing so on a multicountry pass — but that this pass is valid for just one month after you've activated it (whereas multicountry passes offer a two-month window).