Slovakia Rail Passes and Train Tips
By Rick Steves
Are rail passes a good value for Slovakia?
Since point-to-point train tickets are cheap in Slovakia, as they are throughout eastern Europe, a rail pass isn't likely to save you much money. The main reason to buy a rail pass in this region is to avoid the hassle of buying tickets as you go. If a rail pass happens to match the countries you plan to visit, it can be a smart choice. If you're just dipping your toes into Slovakia from Austria (rather than exploring more of the region), you're probably save money just buying a point-to-point train ticket to Bratislava (about $10 in second class from Vienna).
How do I see whether a rail pass makes sense for my trip in particular?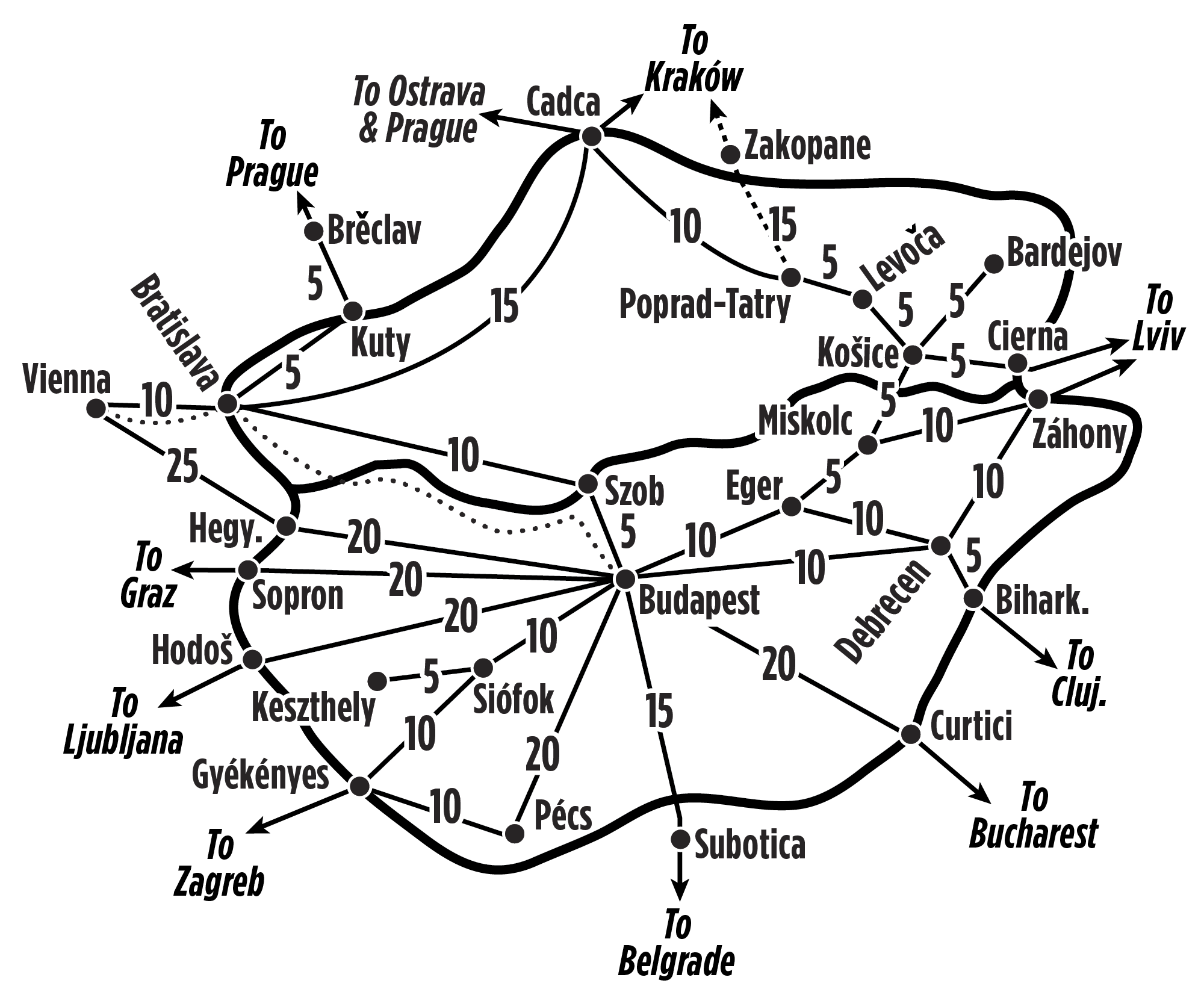 Use this map to add up approximate pay-as-you-go fares for your itinerary, and compare that cost to the price of a rail pass for the number of days you expect to spend on the train. (Dotted lines show ferry routes and dashed lines show bus routes, neither of which are covered by rail passes.)
Also, follow the links below for:
• More tips for figuring out whether a pass makes sense for your trip
• The basics on choosing among rail passes
• More tips on how to save money by fine-tuning your rail pass
• Advice on deciding between first and second class
• Fare-estimate maps outside Slovakia/Hungary
• Answers to frequently asked rail-pass questions
What are my options for rail passes that cover Slovakia?
Choose one of the passes below to check prices and to buy your pass (orders are fulfilled by Rail Europe).

Slovakia Eurail Pass → key details

European East Pass → key details

2-Country Eurail Select Pass → read more about Select Passes

3-Country Eurail Select Pass

4-Country Eurail Select Pass

Eurail Global Pass (28 countries) → read more about this pass
►Rail shopping cart: Have an order underway? Review and complete it here.
Extra tip: The European East Pass meets or beats the price of a three- or four-country Select Pass covering Slovakia — just note the difference in validity periods (one month for European East Pass versus two months on the Select Pass), and that the European East Pass offers no youth discount or free kids.
Do I need to make seat reservations on Slovakian trains?
For the most part, you can hop on nearly all Slovakian trains with just your rail pass in hand. Only overnight trains, and some international routes, require reservations (as indicated in online train schedules).
Any tips for buying point-to-point train tickets in Slovakia?
If a rail pass doesn't pencil out for your trip, see our general tips for buying point-to-point tickets.
---
Slovakia Rail Passes: Key Details
Single-country Slovakia Eurail Pass: Valid for one month, not two, after you've activated the pass (whereas multicountry Eurail-brand passes offer a two-month window of travel).
European East Pass: Covers nearly all trains in Austria, Czech Republic, Hungary, and Slovakia (but isn't accepted on Austria's "WestBahn" brand private trains). Valid for just one month, not two, after you've activated the pass. Note: This is not a Eurail-brand pass, so special Eurail promotional deals don't apply to this pass.