Germany Rail Passes and Train Tips
By Rick Steves
Are rail passes a good value for Germany?
Rail passes are usually a great value in Germany, often saving money while allowing you to hop trains at your convenience. The single-country German Rail Pass, for example, gives you four days of transport anywhere in the country (and even a few select routes beyond Germany) for about the cost of a Munich–Frankfurt round-trip ticket. While it's possible to swing many point-to-point ticket discounts in Germany, a rail pass still makes sense for most visitors traveling by train in Germany.
How do I see whether a rail pass makes sense for my trip in particular?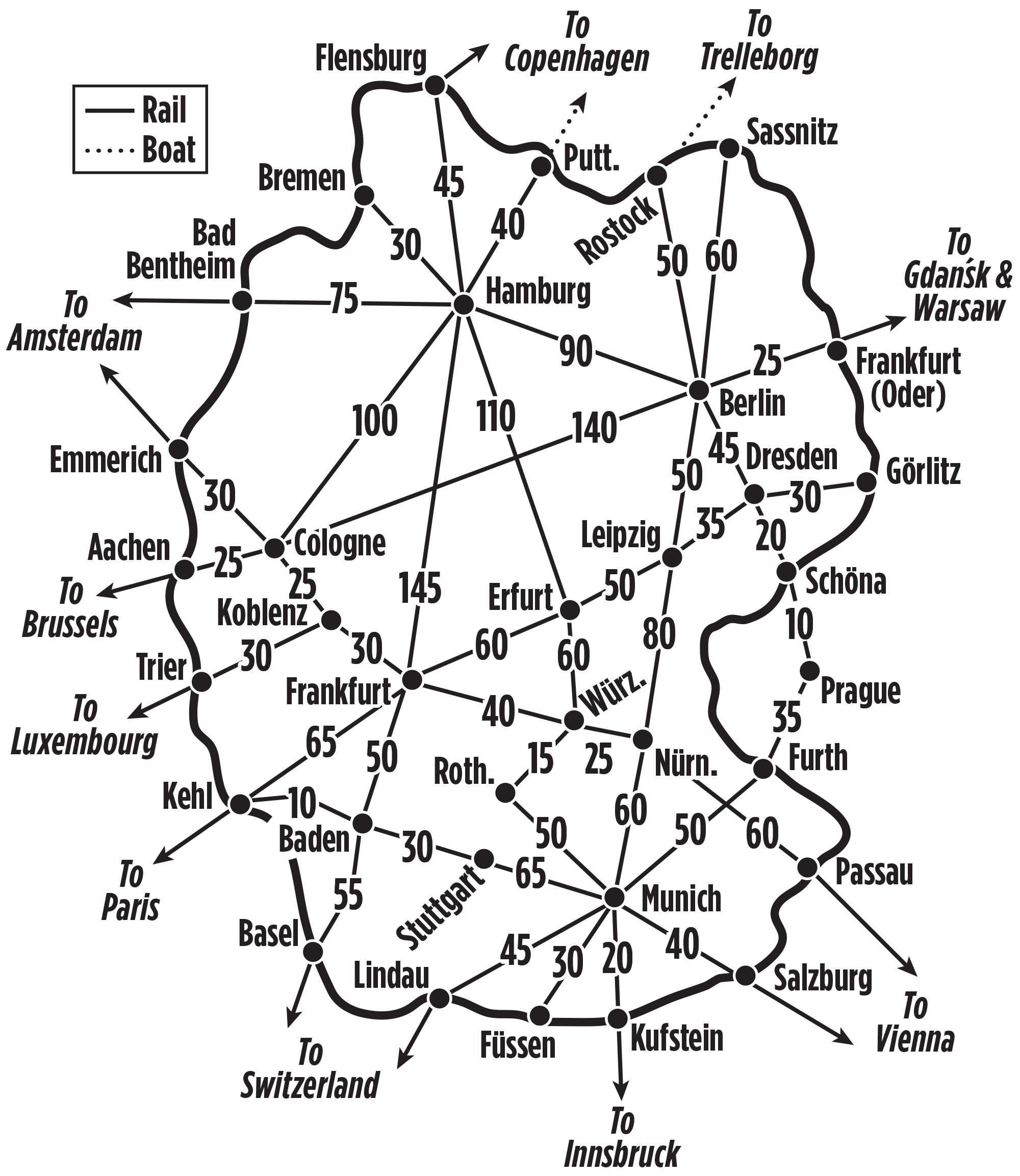 Use this map to add up approximate pay-as-you-go fares for your itinerary, and compare that cost to the price of a rail pass for the number of days you expect to spend on the train. (Dashed lines show bus connections.) Also, follow the links below for:
• More tips for figuring out whether a pass makes sense for your trip
• The basics on choosing among rail passes
• More tips on how to save money by fine-tuning your rail pass
• Advice on deciding between first and second class
• Fare-estimate maps outside Germany
• Answers to frequently asked rail-pass questions
What are my options for rail passes that cover Germany?
Extra tip: If your trip is primarily Germany-based with limited travel beyond its borders, you might be fine sticking with the German Rail Pass (rather than getting a pricier Global Pass), as the German pass covers some international routes (explained below).
Do I need to make seat reservations on German trains?
For the most part, you can hop on most German trains with just your rail pass in hand. Most daytime routes, including fast InterCityExpress trains, do not require seat reservations. Some international or overnight routes (such as to Paris, Brussels, Venice, or Copenhagen) do require that you have reservations before boarding, as indicated in online train schedules. The EuroCity train between Munich and Italy (via Innsbruck) requires passholders to make a reservation, though this isn't indicated in online schedules.
What do rail passes cover in Germany?
All trains within Germany, as well as the following extras:
Trains between Munich and Salzburg (as Salzburg is officially the Austrian border station on this route)
S-Bahn trains (but not U-Bahn trains; this bonus is usually only relevant on the days you arrive or depart on a longer train ride, since otherwise it makes little sense to use up a rail pass travel day for a short, inexpensive trip)
Long-distance buses operated by the railways (InterCity coaches require a paid seat reservation; passes also offer a 20 percent discount on the privately operated Romantic Road bus — and discounts do not use up a pass's travel day)
International routes: Even single-country German Rail Passes cover certain trains and buses to/from Germany operated by the Deutsche Bahn — meaning you can avoid buying separate tickets (or bumping up to a Global Pass) if these are your only trips beyond Germany (but buses require seat assignments, and may not be bookable online). These routes include:

Belgium: ICE international trains to/from Brussels and Liège (but not Thalys trains), and direct DB InterCity buses between Düsseldorf and Antwerp
Prague: Direct DB InterCity bus (not train) services to/from Munich (as well as a stop near Munich's airport), Nürnberg, and Mannheim (requires paid seat reservation)
Austria: EuroCity trains to/from Innsbruck via Kufstein, and direct DB InterCity buses between Munich and Klagenfurt
Italy: EuroCity trains to/from Bolzano, Verona, Bologna, or Venice (but German Rail Pass does not cover the full cost on night trains or routes via Villach; reserve these Italian tickets either in train stations, or book online and enter that you have a Eurail Global Pass — thanks to a quirk in Rail Europe's system, you can only get this particular German Rail Pass benefit by temporarily claiming to have a Global Pass…go figure)
Poland: Direct DB InterCity bus (not train) between Berlin and Warsaw (requires paid seat reservation)

Other bonuses are described when you click through to purchase.
Any tips for buying point-to-point train tickets in Germany?
If a rail pass doesn't pencil out for your trip, you may be able to shave off the cost of your train tickets with some of these tips:
Kids under 15 travel free when named on one train ticket with parents or grandparents. (And kids under 6 ride free without a ticket — whereas train travel in most neighboring countries is free only for kids under 4.)
With Sparpreise discounts, you save 25–50 percent — sometimes even up to 70 percent — by buying a train ticket at least three days in advance for pre-selected dates and times (group discount available, refund restrictions apply, and seats at each discounted rate are limited — for best prices buy as early as possible; deals go on sale up to 180 days ahead).
Two slow-train deals can be a steal: The "day ticket for Germany" gives groups of up to five people unlimited second-class travel on non-express trains for a calendar day (€42 for one traveler, €7 for each cotraveler, can't be used before 9:00 a.m. on weekdays, called the "Quer-durchs-Land Ticket" in German materials). Regional day tickets (a.k.a. "Länder-Tickets") are a similar deal for local trains within a single region, such as Bavaria (generally €22–30 for first person, €3–8 each for up to four cotravelers, can't be used before 9:00 a.m. on weekdays).
Search for German ticket fares on the Deutsche Bahn's site (discounts are calculated if you add children or put in a return date). You can also order by phone at +49 1805 99 66 33.
Those staying longer in Germany can get discounts for a full year by purchasing one of several Bahn Cards (one person pays €62 for 25 percent discounts, or €255 for 50 percent discounts in second class; cheaper for seniors, youths, and children).
Also see our general tips for buying point-to-point tickets.
---