Ireland Rail Passes and Train Tips
By Rick Steves
Are rail passes a good value for Ireland?
A rail pass is not very useful in Ireland: Trains fan out from Dublin to major cities, but neglect much of the countryside (Ireland's buses reach many more rural spots, but aren't covered by rail passes). Paying as you go works fine for both train and bus tickets.
How do I see whether a rail pass makes sense for my trip in particular?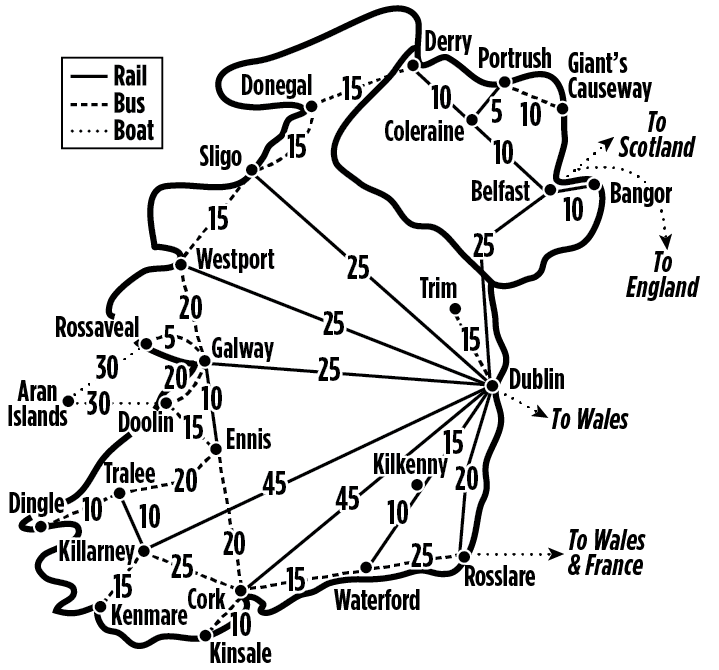 Use this map to add up approximate pay-as-you-go fares for your itinerary, and compare that cost to the price of a rail pass for the number of days you expect to spend on the train.
The train fares shown here for the Republic of Ireland roughly match what you'd pay if buying a ticket online shortly before departure. Dashed lines show bus connections, which aren't covered by rail passes. Dotted lines show ferry routes (rail passes get you a discount on some international ferries, but not on Aran Islands routes).
Also, follow the links below for:
• More tips for figuring out whether a pass makes sense for your trip
• The basics on choosing among rail passes
• More tips on how to save money by fine-tuning your rail pass
• Advice on deciding between first and second class
• Fare-estimate maps outside Ireland
• Answers to frequently asked rail-pass questions
What are my options for rail passes that cover Ireland?
Choose one of the passes below to check prices and to buy your pass (orders are fulfilled by Rail Europe).

Ireland Eurail Pass → key details

3-Country Eurail Select Pass → read more about Select Passes

4-Country Eurail Select Pass

Eurail Global Pass (28 countries, but not Britain) → read more about this pass
►Rail shopping cart: Have an order underway? Review and complete it here.
Extra tip #1: If you're traveling only within the Republic of Ireland, two more rail passes are worth considering: the Trekker Four Day (four days in a row) and Explorer (five days within a 15-day window) passes. Both are sold only at Irish train station ticket offices, not online.
Extra tip #2: If you plan to get around by bus, consider one of the bus passes sold in Ireland.
Do I need to make seat reservations on Irish trains?
Nope — you can hop on most Irish trains with just your rail pass in hand.
What do rail passes cover in Ireland?
Eurail passes for Ireland cover all trains (but not buses) in both the Republic and Northern Ireland, and give a 30 percent discount on standard foot-passenger fares for the following ferry services:
Britain: Dun Laoghaire–Holyhead and Rosslare–Fishguard Stena Line ferries and on Irish Ferries' Dublin–Holyhead and Rosslare–Pembroke service
France: Rosslare–Cherbourg service on both Irish Ferries and Stena Line, as well as Irish Ferries' Rosslare–Roscoff service
What's the best way to reach Ireland from elsewhere in Europe?
Flying is probably your best means of reaching either Britain or the Continent, as it's often easy to find cheap fares on Ryanair and other carriers.
Ferries are still preferable if you're not traveling light (as budget airlines have low, and strictly enforced, weight limits) or don't want to lock in your itinerary too far in advance. Some ferries are discounted with a rail pass (see above); if you're not using a rail pass but will be taking the train in Britain, look into combined "Sail/Rail" ferry/train tickets. National Express (Britain's version of Greyhound) offers London–Dublin bus/ferry tickets combo tickets, often for as low as $50–70.
Any tips for buying point-to-point train tickets in Ireland?
If a rail pass doesn't pencil out for your trip, you may be able to shave off the cost of your train tickets with some of these tips:
Buying tickets online (for the Republic of Ireland) can score you up to 50 percent off the full fare charged at station windows. The price map on this page shows online-purchase fares that can be bought up to 90 minutes before departure (but deeper discounts are offered farther in advance).
Traveling mid-day is cheaper than traveling at rush-hour peak times (in both the Republic and in Northern Ireland).
Round-trip fares in the Republic of Ireland can cost as little as 10 percent more than one-way fares.
Also see our general tips for buying point-to-point tickets.
Any tips for getting around Ireland, given the limitations of its train service?
Renting a car is many travelers' best option, as driving your own vehicle makes it far easier to experience Ireland's far-flung rural charm.
Buses are not only more extensive than Ireland's trains, but often much cheaper (e.g., $30 Dublin–Galway, $20 Dublin–Cork…though when you've got a choice between them, consider that trains are generally faster, make fewer stops, and are not subject to traffic delays). Check Bus Éireann's site for schedules and tickets, and to see if one of its "Open Road" bus passes suits your trip (available online and in Irish stations).
---
Ireland Rail Passes: Key Details
Single-country Ireland Eurail Pass: Valid for one month, not two, after you've activated the pass (whereas multicountry Eurail-brand passes offer a two-month window of travel).