By Rick Steves

Eurail Global Pass
Are Eurail Global Passes generally a good value?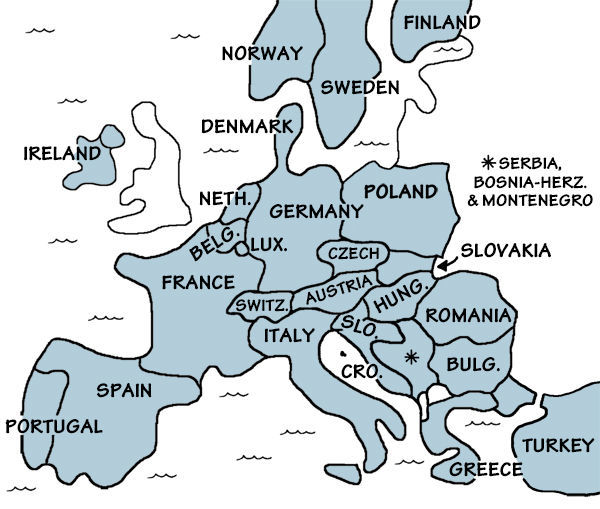 For see-it-all train travelers out to experience as much of Europe as possible, the Eurail Global Pass — the classic "Eurail Pass" of yore — is the best option. Covering 28 countries, the Global Pass allows you to travel freely through most of Europe, from Portugal to Finland to Turkey. (It doesn't, however, cover Great Britain.)
Unlike the Select Pass, the Global Pass offers a consecutive-day "continuous" version — particularly convenient and cost-effective for the whirlwind traveler who's riding the rails almost every day. The Global Pass is also the only pass with a three-month option, making it especially popular with student backpackers.
How do I see whether a Global Pass makes sense for my trip in particular?
Use these maps to add up approximate pay-as-you-go fares for your itinerary, and compare that cost to the price of a rail pass for the number of days you expect to spend on the train. Also, follow the links below for:
What are my options for a Global Pass?
You can get either a continuous pass — for 15 days, 22 days, 1 month, 2 months, or 3 months — or a flexipass for either 10 or 15 travel days within a two-month window, or 5 or 7 travel days within a one-month window.

Eurail Global Pass
►Rail shopping cart: Have an order underway? Review and complete it here (orders are fulfilled by Rail Europe).
Anything I should know before getting this pass?
While the Eurail Global Pass covers the full cost of your ticket on the overwhelming majority of European trains (fast, medium, slow, international, day, night, etc.), it's important to know what's not covered:
All trains in Britain (covered by a range of regional passes)
Accommodations on overnight trains
Seat-reservation fees (required on certain trains)
A few privately operated routes (listed on each country's page — see list of countries in sidebar)
Passholders should also be aware of a few tricky areas:
Extra tip: The 5-day Global Pass, costing only about $10 a day more than the highest-priced 5-day, four-country Select Pass but covering 24 more countries, may be worthwhile for some — but for travelers considering five long train rides, a mix of point-to-point train tickets and budget flights may be a better option.