Greece Rail Passes and Train Tips
By Rick Steves
Are rail passes a good value for Greece?
Since railway service is limited to a few main lines, a rail pass is not very useful in Greece. Generally speaking, passes are only useful for those looking to reach Greece by ferry — though the availability of cheap flights usually makes flying a better option. For tips on getting around Greece despite its dismal train service, see below.
How do I see whether a rail pass makes sense for my trip in particular?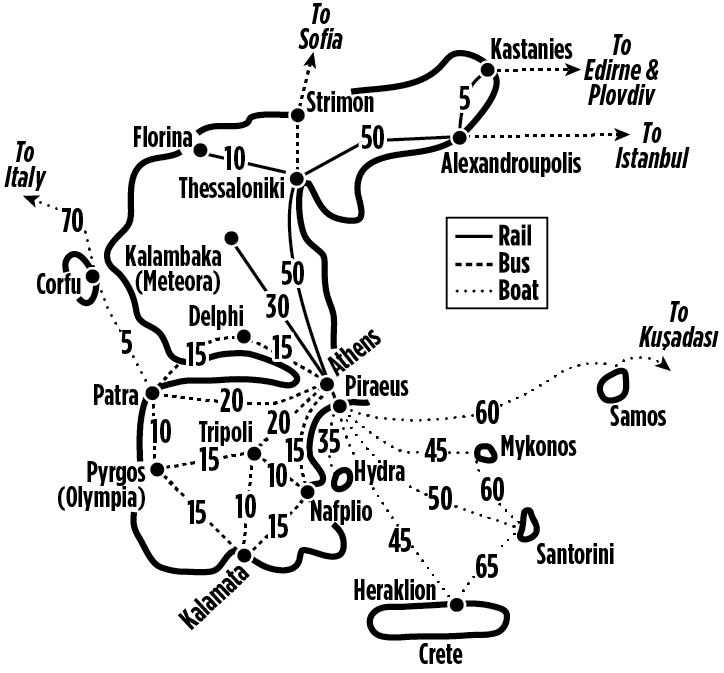 In theory, you could use this map to add up approximate pay-as-you-go fares for your itinerary, and compare that cost to the price of a rail pass for the number of days you expect to spend on the train. However, Greek rail service is so limited that it's pretty safe to assume you won't be using a pass to get around within Greece. Dotted lines show ferry routes, some of which are discounted if you have a rail pass. Dashed lines show bus connections, all but one of which aren't covered by rail passes.
That said, you may still find it helpful to follow the links below for:
• More tips for figuring out whether a pass makes sense for your trip
• The basics on choosing among rail passes
• More tips on how to save money by fine-tuning your rail pass
• Advice on deciding between first and second class
• Fare-estimate maps outside Greece
• Answers to frequently asked rail-pass questions
What are my options for rail passes that cover Greece?

Greece Eurail Pass → key details

Eurail Global Pass (33 countries) → read more about this pass
Buy Greek Islands Eurail Pass (currently unavailable) → key details
►Rail Europe shopping cart: Have an order underway? Review and complete it here.
What do rail passes cover in Greece?
Trains: The Greece Eurail Pass and the Global Pass cover what little train service is currently running in Greece. Domestically, that's limited to essentially two lines:
The main line linking Athens, Thessaloniki, Alexandroupolis, and Kastanies (a.k.a. "Kastanee/Καστανιές" on Greek schedules; within taxi/bus reach of the Turkish border), with its branch lines to Volos and Kalambaka (Meteora), and
The Athens–Kiato line (the rail half of the Athens–Patra route).
Most other local rail connections are not operating, including around the Peloponnese.
Buses: The route between Kiato (with a train station serving trains to/from Athens) and the port of Patra is the only bus line covered by passes.
Domestic ferries: The Greek Islands Eurail Pass (if/when it is again available for sale) is the only pass covering domestic ferry lines, but it won't cover all of them — the basics are described under key details below; full details are provided in the materials that come with the pass.
International ferries: Certain routes are either discounted or fully covered, depending on the specific pass (all described under key details below).
What's the best way reach Greece from elsewhere in Europe?
Flying is the best way to get there, especially since international trains only connect Thessaloniki (and Athens) via Macedonia or Bulgaria (not Turkey or Albania). Moreover, driving to or from Greece is difficult — not just because of the long distances, but because border towns don't tend to have car-rental agencies, and the major agencies in larger cities won't allow their cars to cross the Greek border for any reasonable price.
Ferries still connect Greece to Italy and Turkey. The Eurail Global Pass covers overnight ferries operated by Superfast Ferries/ANEK Lines between Italy (Venice, Ancona, or Bari) and Greece (Patra, Corfu, or Igoumenitsa). Ferries to Turkey leave from Greek islands closest to Turkey; none are covered by rail passes. There are no ferries between Greece and Croatia (except via Italy).
Any tips for getting around Greece, given that train service is nearly nonexistent?
---