Greece Rail Passes and Train Tips
By Rick Steves
Are rail passes a good value for Greece?
Since railway service is limited to a few main lines, a rail pass is not very useful in Greece. What's more, Greece also canceled most of its international train service a few years ago. Generally speaking, passes are only useful for those looking to reach Greece by ferry — though the availability of cheap flights usually makes flying a better option. For tips on getting around Greece despite its dismal train service, see below.
How do I see whether a rail pass makes sense for my trip in particular?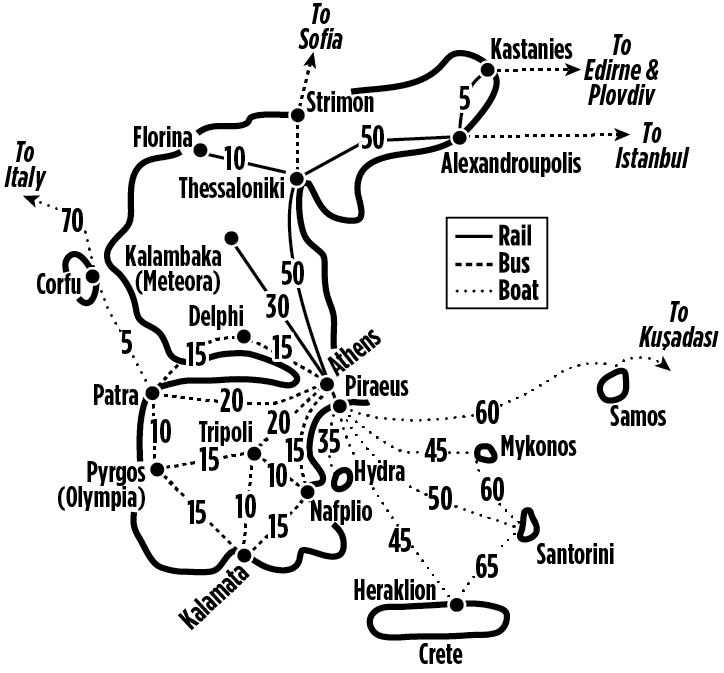 In theory, you could use this map to add up approximate pay-as-you-go fares for your itinerary, and compare that cost to the price of a rail pass for the number of days you expect to spend on the train. However, Greek rail service is so limited that it's pretty safe to assume you won't be using a pass to get around within Greece (the possible exception: the Greek Islands Eurail Pass, which covers some domestic ferry lines). Dotted lines show ferry routes, some of which are discounted if you have a rail pass. Dashed lines show bus connections, all but one of which aren't covered by rail passes.
That said, you may still find it helpful to follow the links below for:
• More tips for figuring out whether a pass makes sense for your trip
• The basics on choosing among rail passes
• More tips on how to save money by fine-tuning your rail pass
• Advice on deciding between first and second class
• Fare-estimate maps outside Greece
• Answers to frequently asked rail-pass questions
What are my options for rail passes that cover Greece?
Choose one of the passes below to check prices and to buy your pass (orders are fulfilled by Rail Europe).

Greece Eurail Pass → key details

Greek Islands Eurail Pass → key details

Balkan Flexipass → key details

2-Country Eurail Select Pass* → read more about Select Passes

3-Country Eurail Select Pass

4-Country Eurail Select Pass

Eurail Global Pass (28 countries) → read more about this pass
►Rail shopping cart: Have an order underway? Review and complete it here.
*The only two-country Select Passes to include Greece are the Greece–Italy pass and the Greece–Bulgaria pass (there is no Greece–Turkey pass, although both Greece and Turkey are available on a three- or four-country Select Pass).
Extra tip: Think carefully before getting a Greece–Italy Select Pass: Since it's affordable to buy train tickets locally in both Italy and Greece, and since Greece has just a few rail lines operating, this pass is not a wise move for most travelers (those traveling by ferry between Greece and Italy and taking several Greek ferries may do better with the Greek Islands Eurail Pass).
What do rail passes cover in Greece?
Trains: Except for the Greek Islands Eurail Pass, all passes listed above cover what little train service is currently running in Greece. Domestically, that's limited to essentially two lines:
The main line linking Athens, Thessaloniki, Alexandroupolis, and Kastanies (a.k.a. "Kastanee/Καστανιές" on Greek schedules; within taxi/bus reach of the Turkish border), with its branch lines to Volos and Kalambaka (Meteora), and
The Athens–Kiato line (the rail half of the Athens–Patra route).
Most other local rail connections are not operating, including around the Peloponnese. International service is limited to Thessaloniki–Sofia (Bulgaria) and Thessaloniki–Skopje–Belgrade (to/from Serbia via Macedonia).
Buses: The route between Kiato (with a train station serving trains to/from Athens) and the port of Patra is the only bus line covered by passes (and isn't covered by the Greek Islands Eurail Pass).
Domestic ferries: The Greek Islands Eurail Pass is the only pass covering domestic ferry lines, but it won't cover all of them — the basics are described under key details below; full details are provided in the materials that come with the pass.
International ferries: Certain routes are either discounted or fully covered, depending on the specific pass (all described under key details below).
What's the best way reach Greece from elsewhere in Europe?
Flying is the best way to get there, especially since international trains only connect Thessaloniki (and Athens) with Sofia (with sparse train service itself — but does offer an overnight train to/from Istanbul) and Belgrade; all other international service has yet to resume after being suspended several years ago (including trains to Bucharest and Istanbul). Moreover, driving to or from Greece is difficult — not just because of the long distances, but because border towns don't tend to have car-rental agencies, and the major agencies in larger cities won't allow their cars to cross the Greek border for any reasonable price.
Ferries still connect Greece to Italy and Turkey. Multicountry passes for Greece as well as the Greek Islands Eurail Pass cover overnight ferries operated by Superfast Ferries/ANEK Lines between Italy (Venice, Ancona, or Bari) and Greece (Patra, Corfu, or Igoumenitsa). Ferries to Turkey leave from Greek islands close to Turkey and are not covered by rail passes. There are no ferries between Greece and Croatia (except via Italy).
Any tips for getting around Greece, given that train service is nearly nonexistent?
---
Greece Rail Passes: Key Details
Single-country Greece Eurail Pass: Valid for just one month, not two, after you've activated the pass. Gives a 20–30 percent discount on most Greece–Italy ferries (and a 30 percent discount on some domestic ferries, but only if you've used the pass on a Greece–Italy ferry operated by Superfast Ferries/ANEK Lines).
Greek Islands Eurail Pass: Good for six ferry trips, including two Greece–Italy trips, within one month of activating the pass. Covers deck passage on routes operated by Superfast Ferries/ANEK Lines between either Ancona or Bari (Italy) and either Patra, Igoumenitsa, or Corfu (Greece); first-class passes include a bed in shared four-bed berths on international ferries. Also covers domestic routes operated by Blue Star Ferries and ANEK Lines connecting Piraeus (the port nearest Athens) and 26 islands with each other, including Santorini, Mykonos, Heraklion (Crete), Rhodes, Ios, Naxos, and Patmos (but not Hydra). For most travelers this pass will only save money if two of this pass' six trips are used to cover round-trip ferry passage to/from Italy. While many travelers prefer the (arguably) more comfortable experience of taking the kind of bigger and slower ferries operated by Blue Star and ANEK, keep in mind that other ferry lines not covered by this pass often offer faster, more frequent, and/or more direct connections between Aegean islands.
Balkan Flexipass: Covers trains in Bosnia-Herzegovina, Bulgaria, Greece, Macedonia, Montenegro, Romania, Serbia, and Turkey; also covers Superfast Ferries/ANEK Lines between Patra, Greece and Bari or Ancona, Italy (starts use of one travel day, may include overnight cabin). Only available in first class, regardless of age. InterCity (IC), and InterCity Express (ICE) trains require extra supplements/seat reservations, which can be made locally. Read ahead before getting this pass — your guidebook may recommend travel by bus instead of train. Note: This is not a Eurail-brand pass, so special Eurail promotional deals don't apply to this pass.
Eurail Select Pass and Eurail Global Pass: Cover deck passage on Superfast Ferries/ANEK Lines between Patra, Greece and Bari or Ancona, Italy (starts use of one travel day, first-class passes may include overnight cabin). Select and Global passes also grant 20–30 percent discounts on other Greece–Italy ferry lines; these do not use up a travel day (details outlined here). On any Adriatic ferry, expect port and/or fuel fees adding up to around €25, plus seasonal surcharges of €10–20. Second-class passes can only be used by travelers under 28; travelers age 28 or older must buy a first-class pass.