Belgium Rail Passes and Train Tips
By Rick Steves
Are rail passes a good value for Belgium?
Most visits to Belgium don't cover enough miles to justify buying a rail pass, even if you're visiting the Netherlands as well. (All rail passes that cover Belgium also cover the Netherlands and Luxembourg; together they're called "Benelux," and count as one country as far as rail passes are concerned.) If your itinerary extends beyond this relatively small region, adding Benelux to a multi-country rail pass may be a good deal (but it always pays to double-check). If you decide against a pass, see our general tips for buying point-to-point tickets in Europe.
How do I see whether a rail pass makes sense for my trip in particular?
Train Fares: Belgium & Netherlands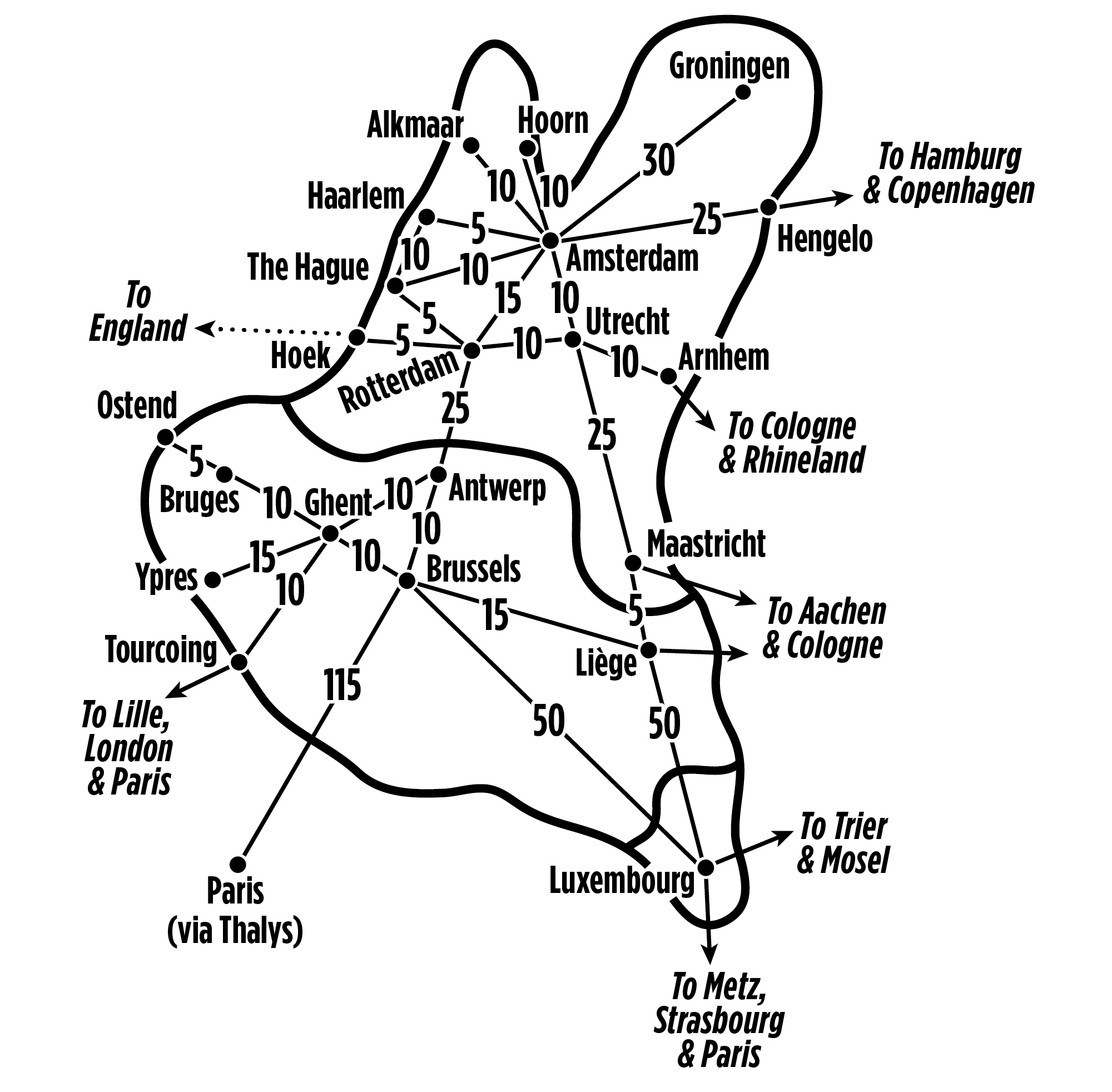 Map shows approximate costs, in $US, for one-way, second-class tickets. For first-class fares, add 50 percent.
Use this map to add up approximate pay-as-you-go fares for your itinerary, and compare that cost to the price of a rail pass for the number of days you expect to spend on the train.
Also, follow the links below for:
• More tips for figuring out whether a pass makes sense for your trip
• The basics on choosing among rail passes
• More tips on how to save money by fine-tuning your rail pass
• Advice on deciding between first and second class
• Fare-estimate maps outside Benelux
• Answers to frequently asked rail-pass questions
What are my options for rail passes that cover Belgium?
Choose one of the passes below to check prices and to buy your pass (orders are fulfilled by Rail Europe).

Benelux Eurail Pass → key details

Eurail Select Pass ("Benelux" plus 1, 2, or 3 other countries) → read more about this pass

Eurail Global Pass (28 countries) → read more about this pass
►Rail shopping cart: Have an order underway? Review and complete it here.
Do I need to make seat reservations on Belgian trains?
For the most part, you can hop on nearly any Belgian train with just your rail pass in hand. But the fast Thalys trains that run between Brussels and Amsterdam, Cologne, and Paris do require reservations — and they're expensive (point-to-point tickets also cost more on these trains than other trains on these routes). On Brussels–Amsterdam and Brussels–Cologne trains, you can avoid this extra cost simply by choosing a regular non-Thalys train, which doesn't require seat reservations. The Brussels–Paris direct route is served only by Thalys trains, and reservations cost $25–45 in addition to a rail pass that covers Benelux and/or France (reserve as far ahead as possible for the Brussels–Paris stretch).
What do rail passes cover in Belgium?
Aside from the extra reservation fees required for certain classes of train (see above), rail passes cover all travel on trains run by the SNCB, Belgium's national railway.
Rail passes do not cover the Eurostar train, which crosses the English channel (though passholders are eligible for special fares, provided their pass covers either Benelux or England; these fares sell out in advance of the rest of the train). Fortunately, for a few dollars more, Eurostar tickets to/from Brussels can also cover the cost of any direct connecting train within Belgium.
Any tips for buying point-to-point train tickets in Belgium?
If a rail pass doesn't pencil out for your trip, you may be able to shave off the cost of your train tickets with some local deals. For example, seniors (65 and older) can hop any train for just €6 round-trip, provided it's not a high-speed express (or Thalys) train, and provided it's not a weekday before 9 a.m. Youths (25 and younger) can take advantage of a similar deal on etickets.
---
Belgium Rail Passes: Key Details
Benelux Eurail Pass: Valid on Thalys trains, which require relatively expensive seat reservations, within the "Benelux" region; for an additional seat reservation (about $25–45) this pass can also cover Thalys trains to/from Paris. While the other passes covering this region offer a two-month window, this pass allows travel within just one month after you've activated the pass.