Croatia Rail Passes and Train Tips
By Rick Steves
Are rail passes a good value for Croatia?
Not for most trips: Since trains don't run along the Dalmatian Coast (and trains aren't running via Zagreb in 2023), most travelers wind up getting around primarily by ferry and bus (or rental car), which aren't covered by rail passes. Moreover, point-to-point train tickets are pretty affordable, making a pass worthwhile for very few travelers.
How do I see whether a rail pass makes sense for my trip in particular?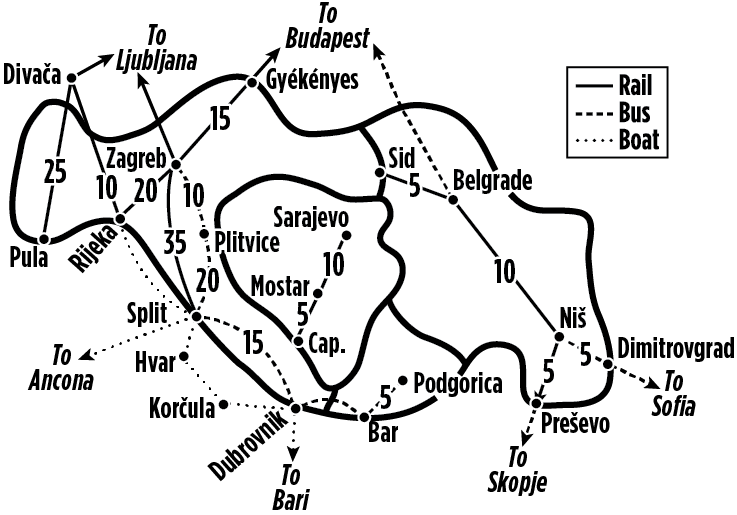 Use this map to add up approximate pay-as-you-go fares for your itinerary, and compare that cost to the price of a rail pass for the number of days you expect to spend on the train. Dotted lines show ferry routes and dashed lines (such as Split–Dubrovnik) show bus routes, neither of which are covered by rail passes.
Also, follow the links below for:
• More tips for figuring out whether a pass makes sense for your trip
• The basics on choosing among rail passes
• More tips on how to save money by fine-tuning your rail pass
• Advice on deciding between first and second class
• Fare-estimate maps outside the Balkans
• Answers to frequently asked rail-pass questions
What are my options for rail passes that cover Croatia?

Croatia Eurail Pass

Eurail Global Pass (33 countries) → read more about this pass
►Rail Europe shopping cart: Have an order underway? Review and complete it here.
Do I need to make seat reservations on Croatian trains?
For the most part, you can hop on nearly all Croatian trains with just your rail pass in hand. Only overnight trains, and some international routes, require reservations (as indicated in online train schedules).
Any tips for getting around — or getting to — Croatia, given that train service is so limited?
Renting a car is probably the easiest way of getting around Croatia. Otherwise, you'll be able to get just about everywhere trains don't go by bus, albeit not as conveniently. Either way, ferries are the way to reach the islands that dot Croatia's coastline. Find bus info locally or in a guidebook, and ferry info through Jadrolinija's site.
Many travelers begin or end their Croatian trip in Dubrovnik, which is served by bus, ferry, and planes...but not by rail. There is no easy ground or sea transport from Dubrovnik to Greece, so flying is the best option.
Any tips for buying point-to-point train tickets in Croatia?
If a rail pass doesn't pencil out for your trip, see our general tips for buying point-to-point tickets.
---