Palermo
Sicily
Sicily is a fertile mix of geology and culture. Eruptions from its volcano, a glowing sun, generations of hard work, and wave after wave of civilizations storming through over the centuries — they all come together here, giving visitors a full-bodied travel experience that engages all the senses.
At a Glance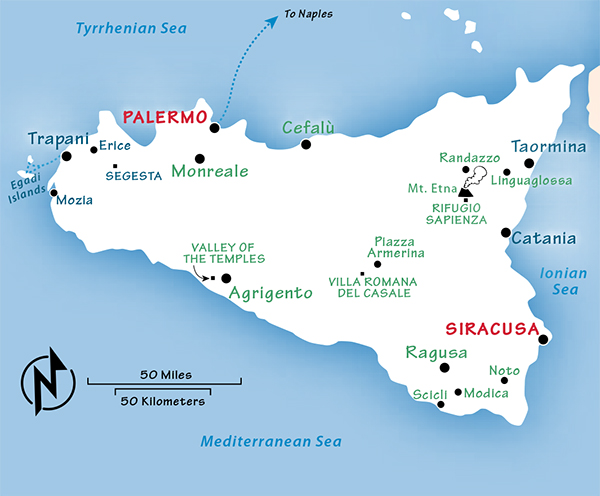 ▲▲▲ Palermo Sicily's sprawling, gritty capital, with colorful markets and bustling shopping streets that signal a fun-loving city in regeneration. The worthwhile Monreale Cathedral, just a few miles to the west, makes an easy half-day excursion.
▲▲▲ Siracusa Former home to Sicily's greatest ancient Greek settlement, now a modern centered on the historic island of Ortigia, boasting shabby-chic lanes, a grand Baroque piazza, and a lazy seafront promenade.
▲▲ Cefalù Fishing-turned-beach-bum village, an hour from Palermo, with a charming old town center, a Norman cathedral, fine seafood options, and an inviting, sandy beach.
▲▲ Agrigento Town on the southern coast, that's home to Sicily's premier ancient attraction: the Greek ruins at the Valley of the Temples, with a fine archaeological museum nearby.
▲▲ Villa Romana del Casale Remote palace deep in the middle of the island boasting the largest collection of in situ Roman mosaics ever found.
▲▲ Ragusa The finest of southeast Sicily's picturesque hill towns, with higgledy-piggledy stone homes blanketing two adjacent hilltops.
▲▲ Mount Etna The most active volcano in Europe (and the top tourist sight in Sicily), offering hikes in a lunar landscape, a steaming summit, and tours and tastings at up-and- coming wineries on its north slope.
▲ Trapani Laid-back port town famous for its nearby salt flats — and an easy home base for day trips to the west coast's best stops: the hilltop village of Erice, the fishing island of Favignana, Carthaginian ruins at Mozia, and ancient ruins of Segesta and Selinunte.
▲ Catania Sicily's second city and de facto capital of the east that's most useful as a transportation hub — but offers a rejuvenated Baroque city center, hidden Roman theater, and rare-in-Italy WWII museum.
▲ Taormina Cliffside resort with a Grand Tour vibe with views of Mount Etna in the distance (and the sea just below), a dramatic Greek-Roman Theater, and high-end tourists.
▲ Modica, Scicli, Noto Trio of worthwhile stops near Ragusa, with Modica's famous chocolate, Scicli's small-town charm, and Noto's showcase Baroque — all within easy reach of Sicily's scenic southeastern coastline.
Plan
Photos
Watch
Read
Listen