Ondarroa
Spanish Basque Country
Straddling two nations on the Atlantic Coast — stretching about 100 miles from Bilbao, Spain, north to Bayonne, France — lies the ancient, free-spirited land of the Basques. The Basque Country is famous for its beaches and scintillating modern architecture…and for its feisty, industrious natives. It's also simply beautiful: Bright white chalet-style homes with deep-red and green shutters scatter across lush, rolling hills; the Pyrenees Mountains soar high above the Atlantic; and surfers and sardines share the waves. On the Spanish side, the dazzling architecture of the Guggenheim Bilbao modern-art museum and the glittering resort of San Sebastián draw enthusiastic crowds, while traditional small towns, such as Lekeitio and Hondarribia, are also thriving, making the entire region colorful, fun, welcoming.
Places
At a Glance
The Basque Country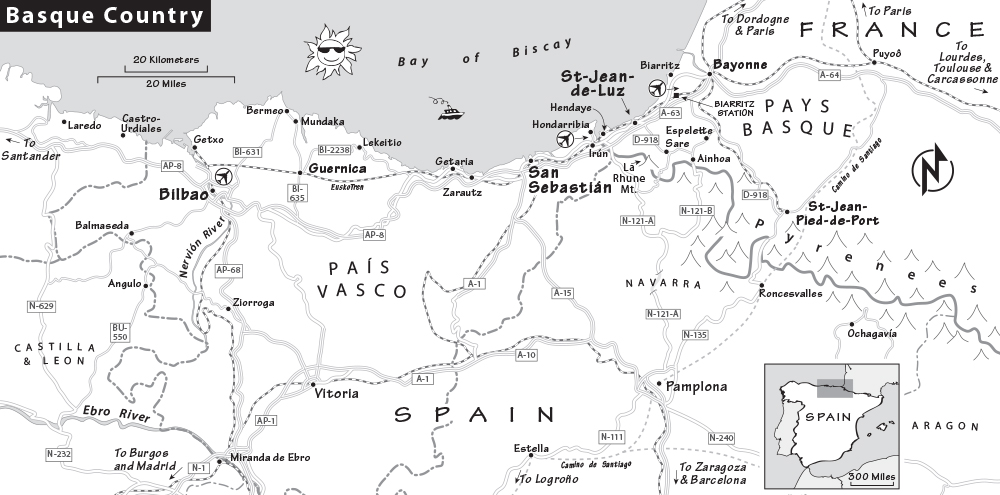 ▲▲ San Sebastián (Spain) Relaxing upscale city with beachfront promenade wrapped around chic shopping neighborhood and tasty tapas bars.
▲▲ Bilbao (Spain) Revitalized regional capital with architectural gem — Guggenheim Bilbao — and atmospheric Old Town.
▲▲ St-Jean-de-Luz (France) Sleepy seaside retreat in the French Pays Basque that serves as home base for countryside exploration.
▲▲ Pamplona (Spain) Thriving town along the Camino de Santiago with atmospheric narrow lanes, fine churches, and world-famous Running of the Bulls.
▲ Guernica (Spain) Village at the heart of Basque culture that was devastated by bombs during the Spanish Civil War — later immortalized by Picasso masterpiece.
▲ Bayonne (France) Urban French scene with a Basque twist, home to impressive cultural museum, scenic ramparts, and lots of ham.
▲ St-Jean-Pied-de-Port (France) Tranquil French mountain village clustered along a babbling stream — the perfect springboard for the Camino de Santiago.
Biarritz (France) Beach resort known for its mix of international glitz and surfer dudes.
Plan
Photos
Watch
Read
Listen