Utah Beach
D-Day Beaches
The 54 miles of Atlantic coast north of Bayeux — stretching from Utah Beach in the west to Sword Beach in the east — are littered with WWII museums, monuments, cemeteries, and battle remains left in tribute to the courage of the British, Canadian, and American armies that successfully carried out the largest military operation in history: D-Day. It was on these serene beaches, at the crack of dawn on June 6, 1944, that the Allies finally gained a foothold in France; from this moment, Nazi Europe was destined to crumble.
At a Glance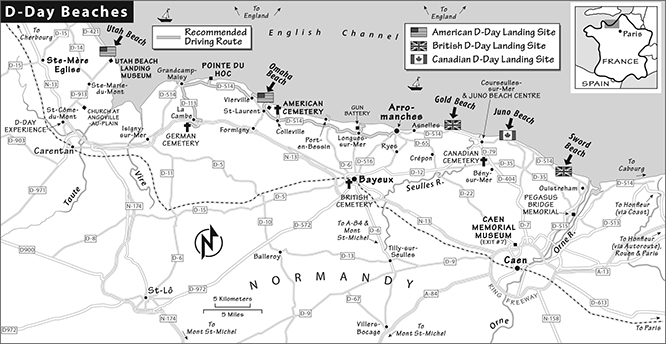 Arromanches
▲▲▲ Port Winston Artificial Harbor Remains of the amazing prefab harbor that was ground zero for the D-Day invasions.
▲▲ Arromanches 360° Theater Venue for viewing a powerful 30-minute film about the landings.
▲ D-Day Landing Museum Small museum that does a fine job explaining how Port Winston was built.
Omaha Beach
▲▲▲ WWII Normandy American Cemetery and Memorial Lovingly tended final resting place for nearly 10,000 Americans who died on the nearby beaches, with a moving exhibit in the visitors center.
▲▲▲ Omaha Beach Site of the invasion's most intense battles, with statues and memorials dotting the stretch.
▲▲▲ Pointe du Hoc Ranger Monument Crater-pocked bluff giving an memorable impression of the force of the Allied bombing campaign.
▲ Longues-sur-Mer Gun Battery Cluster of cement bunkers housing what had been one of Hitler's most critical points of defense along the coast.
▲ German Military Cemetery at La Cambe Thought-provoking burial site of about 300 mostly unknown German soldiers (the biggest of several similar cemeteries in Normandy).
Utah Beach
▲▲▲ Utah Beach Landing Museum Fascinating, well-designed exhibits, housed in the remains of a German bunker, comprising the area's best D-Day museum.
▲ Ste-Mère Eglise Village liberated by paratrooper Americans, made famous in the film The Longest Day.
▲ Airborne Museum Four-building collection detailing the gutsy D-Day aerial operations that allowed the Allies to get critical support behind enemy lines.
▲ D-Day Experience/Dead Man's Corner Unique museum designed to let visitors vicariously experience D-Day as a member of the 101st Airborne Division.
Juno Beach
Juno Beach Centre Thoughtful exhibits that explain, and champion, Canada's crucial and heroic role in the invasion, with the understated Canadian cemetery nearby at Bény-sur-Mer.
Caen
▲▲ Caen Memorial Museum One of the world's most comprehensive WWII museums, full of artifacts, films, and compelling displays that put the Battle of Normandy into a broader context.
Plan
Photos
Watch
Read
Listen