Norman coast
Normandy
Sweeping coastlines, half-timbered towns, fortified farmsteads, and thatched roofs decorate the rolling green hills of Normandy. Despite the peacefulness you sense today, the region's history is filled with war, from Viking invasions to William the Conqueror, from Joan of Arc, and of course the 1944 battles of D-Day. The rugged, rainy Norman coast harbors wartime bunkers and enchanting fishing villages like Honfleur. And, on the border it shares with Brittany, the almost surreal island abbey of Mont St-Michel rises serene and majestic, oblivious to the tides of tourists.
Places
At a Glance
▲▲▲ D-Day Beaches Atlantic coastline — stretching from Utah Beach in the west to Sword Beach in the east — littered with WWII museums, monuments, and cemeteries left in tribute to the Allied forces who successfully carried out the largest military operation in history: D-Day.
▲▲▲ Mont St-Michel Pretty-as-a-mirage island abbey that once sent pilgrims' spirits soaring — and today does the same for tourists.
▲▲ Rouen Lively city whose old town is a pedestrian haven, mixing a soaring Gothic cathedral, half-timbered houses, and Joan of Arc sights.
▲▲ Honfleur Picturesque port town, ideally located where the Seine greets the English Channel, whose shimmering light once captivated Impressionist painters.
▲▲ Bayeux Six miles from the D-Day beaches and the first city liberated after the D-Day landings, worth a visit for its famous medieval tapestry, enjoyable town center, and awe-inspiring cathedral, beautifully illuminated at night.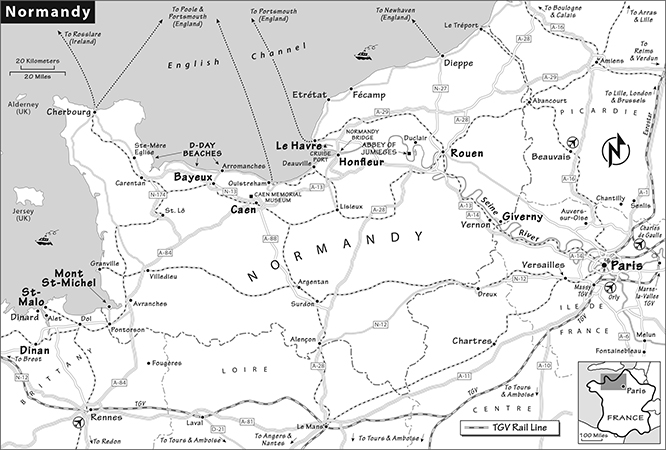 Plan
Photos
Watch
Read
Normandy

Bayeux

D-Day Beaches

Mont St-Michel
Listen